The Tra Lee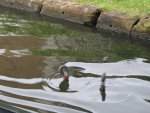 Mon, 27 Sep 2021
Distant cousin to the Wee Lybinn, the Valise Abandonée and the Roo Stibyke, The Tra Lee [Cartus Foro Superbus] has recently begun colonising the rivers near the town. As with its none too close relatives, mentioned above, this marks a step-change in roosting behaviours. Until recently, this mysterious beast made its home almost entirely in the local canals such as the Hebble and Calder Navigation. Sightings have been made as far afield as the Rochdale Canal although in general the Tra Lee travels no further than 15 miles as the cart rolls from Aldi's or Morrison.
Generally, this species is only aquatic from late spring until early autumn, depending on weather patterns, particularly precipitation levels. As a rule between October and May they will be more common in the Rec, sports fields and public parks.
Evidence suggests that like the seagull, the Tra Lee subsists on a diet of fast food, fizzy drinks and/or alcohol.
Sadly, the Tra Lee's proliferation has led to the decline in other aquatic species, such as swans, mallards and the once ubiquitous wild swimmer.