No longer gold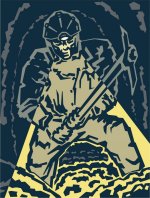 Fri, 19 Nov 2021
Coal has been gold
in winter's cold:
red flames to warm
in chill of storm.
In cities smoke
collected to choke,
so coal that was mined
was mostly confined
to make electricity
to power the city.
But now we deduce
we need to reduce
the gases emitted,
to new ways committed
our homes to warm
to try to conform
to standards of emission –
use wind, tide or sunlight,
or falling water's might
— or maybe nuclear fusion
if it could be controlled —
a story yet to be told?