Hotel Mediterraneo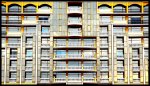 Fri, 10 Dec 2021
2 likes
Sultry and still the sweet night air.
Latin music. Crickets chirping.
Like a favela in Rio or anywhere
But for the sound of Geordies burping.
For el Costa Dorada, the golden sands of Salou,
Separation from Spain the Catalans plead.
But with chip shops and night clubs and Sky TV,
Independence from Britain is more like what they need.
A prayer of thanks to San Miguel,
He's worked such miracles for my thirst.
But my homage to his rituals, I fear tonight,
Will make this pilgrim's bladder burst.
And from my concrete castle's balcony
Ten floors above the disco hell
I see a thousand more, the same as mine,
Each with a holiday tale to tell.
The distant landscape, cacti strewn,
Is no place for the filthy Gringo.
But just across the street from me
Two fat ladies prepare for bingo.
Their lucky pen, their lucky blouse, their lucky underwear,
An arsenal of amulets to bring good luck.
All year they've saved up hard for the fare
To Spain to sweat on two little ducks.
Five storeys below a sun bronzed angel
Hangs out her kids' wet cozzies.
Her husband dear, cracks another beer,
Breaks wind and swats some mozzies.
You can see in her face that she longs to be
On a beach with a dusky hombre.
But she's children to bath, with no help from Dave,
And oh, the bloody laundry!
Not far away a table's cleared.
Paella digested and washing up done.
It's been a hectic day doing not very much
So now it's time to start the evening fun.
Lights are dimmed, Rioja's poured
And the cards are dealt for canasta.
The first hand's played with cunning and skill.
By the fifth hand they're all plastered.
Those teenage girls from Liverpool,
The weather suits their clothes,
Ask, "Does my bum look big in this?"
Those shoes must hurt their toes!
And down the ravers' techno bar
Mascara and lip gloss run in the heat.
But by half past ten they just don't care
'Cause they've pulled a bloke from Stoke called Pete.
Oh Flower of Scotland and Auld Lang Syne
Sing Maggie and Dougie from bonny Dundee.
For an hour they struggle with the second line.
Patriotic with passion for all to see.
They make up some words that really don't fit.
Persevering 'til quarter to four.
Europeans unite shouting 'For God's sake please quit'
As the Scots all collapse on their balcony floor.
Above them a woman sits alone in the night.
A book in her hand. The complete works of Lorca?
I strongly suspect that she's missing her mates.
She got on the wrong plane. Should have gone to Mallorca.
But she seems so serene, far away from the crowd.
Just a room with a view for company.
Lost in her thoughts. Lost here in Spain.
Could she be writing a poem about me?
Image: Created by me a long time ago on a seaside holiday.