THE TRIALS OF AN ANGEL: Part 5 The Dawning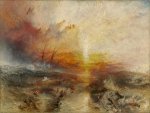 Thu, 22 Sep 2022
Part 5: The Dawning
The morning light struggling to overcome the bright colours of the aurora made the sky look like a Turner. Several copies of his art hung on the walls in the mansion. I remembered admiring "The Slave Ship" displayed in the library, a quiet hall where I revised for exams my tutors set. We'd lived in a part of that great house for nearly twenty years.
The question Terry asked a few minutes earlier echoed in my head. I had to go to the archives. Terry had to know too. I needed to convince him to join me. It wouldn't be easy, he was my most stubborn offspring.
'Do you really need to go to your brothers? Is there anything you can add other than an extra pair of hands? There's four on it already.
'I'm older than them, Ma. I should be there.'
'Don't you trust them? Are you better qualified than them?
The frown spoiling his handsome face told me he was puzzled at why I was hurting his feelings. His chin went up.
'I studied robotic engineering and biometrics. . . . That's what you wanted, Ma.'
'So you think that makes you better than your brothers at connecting wires together?'
'It's not that simple, Ma. You know that.'
'Of course I do, Possum, but—'
'Don't Possum me, Ma I'm not a kid anymore. This is really serious. What the hell is with you?
I glanced at the mixture in the sky while letting out a long impatient phew.
'I, um. I want you to come with me. I'm not trying to belittle you.'
'Come with you? Where?'
'The archives.'
'The arch—. Why?
'You asked the question: "Is it the lights, doing this?" I'm pretty sure they're connected. Something from my lessons when I was young.'
'What makes it so important right now, Ma?'
'I just have the feeling it is really important. I need to know . . . we need to know.'
Terry looked like he thought I'd lost it.
'Son, I'm going big house – now. If you don't want to come that's up to you, but supposing it turns out to be info we have to know so we can sort this mess out. With your knowledge you'll handle it better than me . . . or your brothers.'
'Ma, your putting me in a—.'
He paused. Perhaps he thought I had a point, perhaps he felt he should humour me. He never said.
 'OK I'll come, but first let me tell the guys where I am.'
I ignored his condescending tone.
'Good boy. Meet me there. It'll take the pony best part of an hour anyway.'
Little Jon was getting tired, I walked him to the stables and bedded him down. I found a bike in the exercise centre to finish my journey. By the time I arrived sunlight was competing with the aurora.
The Mansion is a gigantic classical building with hundreds of rooms. When I was old enough to understand, Jonny explained it was once in royal ownership. Lila Grace Langley's organisation persuaded the government at the time to sequester the vast estate for developing our community due to its well established security setup. They argued, since there could be no future heirs it would be in the interests of humanity to hand it over. I recall when Jonny used the word "persuade" he had a wry smile on his face – Lila Grace called it her greatest coup. The building and all its contents were looked after and maintained by a small army of specialist andros. It was developed into a communications base and an education centre for me and my offspring. Later we used parts of it as a school until the community buildings were finished.
As I approached the giant façade on the wide driveway I heard the whine of a botbug. The small two seater vehicle stopped beside me. Terry beamed at me from the driving seat.
'How the—?'
'I rigged it to manual and fixed battery supply with some old cable I found.'
When we reached the entrance Terry stepped out of the thing carrying a shoulder bag.
'What's in there?'
'A couple of lanterns from Tech-Centre. We'll probably need them if the power's out.'
'That car will be useful, Son.'
'Not for long. Once the battery's out it'll be useless.'
The massive door to the entrance hall was open, inside three collapsed Andros barred our way. Terry pushed the motionless machines to one side. Making our way was easy. The morning sun shone through the house's large windows, we'd only need the lanterns if we went into the cellars or other dark places. The corridors and rooms we passed were scattered with motionless robotic equipment. The acrid smell of overheated wiring hung everywhere.
'Hell, Ma we're lucky the place hasn't burnt down. We'd better check for fires.'
I told Terry to have a quick scout round before joining me in the library. The archives were in several places, mostly underneath in a cellar complex. I chose the library first since it held thousands of books and – more important – dozens of files full of my course notes. I left them there. The house I moved in to be closer to the community was too small. The files would be the best place to start. The notes from Professor Davie's lectures were spread across the top an ornate oak table by the time Terry returned, his face again smeared with sooty dust.
'Is everything OK?'
'No fires, but the overheated wiring caused a lot of scorching. The cables are in a state. Getting power in here safely isn't going to be possible. We should cut the main cables before we connect power . . . if we ever do.'
'We can worry about that another time. Help me sift through these, see if you can find any references to the Aurora Borealis or Northern lights.'
I handed half of the pile relating to my geography courses.
'Why are you looking at papers, this will all be on memory chip—,' Terry slapped himself, 'Stupid.'
'Getting computer files going is seriously important, but we don't have time for that right now.'
We shuffled through the papers in silence. The only sound rustling pages and an occasional crack from cooling wiring buried in the walls.
'Can't find anything about Northern lights, Ma but there's something here about Southern lights on this page about Antarctica.'
I snatched the folder from his hand.
'Careful, Ma. You bent my fingernail back.'
I mumbled an apology while he sucked the end of his forefinger. Halfway down the next page I found a reference to the Southern version of the Aurora saying it was rarely seen further north of Tasmania except if there is a CME. Almost in a panic I rifled through the pages trying to find what the hell a CME was. While I was cursing Terry wandered over to the book shelves. I was so busy scrabbling back and forth through the files of notes I didn't notice him standing next to me with a book labelled "Rare Natural Events."
'Corona Mass Ejections. Ma.'
'What?'
'It's in here.' He said, handing me the book.