I'm tired of talking, Cecilia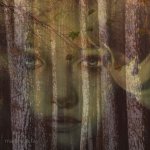 Thu, 15 Dec 2022
We dismount from our brooms, feeling hot and frozen at the same time. Jade has a huge smile under her scarf and her eyes are glittering like cognac diamonds again. Like the first time I tried to give her flying lessons.
I pretend to rub off the snow from my coat, then grab my broom and start making towards the village. She's also gathering herself, and looking at the path, so it's my chance. 'That was… fun. Need to go home now. It's getting hot… cold. It's getting too cold. See ya around then.' I want to kick myself in the ass for how stupid I sound. But I know those eyes of hers. We've been through this. I need to leave. Now.
I walk ahead without looking at Jade again. A few minutes pass and it kind of irks me that she's not even trying to stop me when I smell a breeze. And it's not the piercing wind we flew through earlier. This breeze is enveloping me in warmth and smells like chocolate chip cookies. I automatically turn around. And I gasp.
Jade is still in the clearing. She hasn't replied to my goodbye nonsense. She isn't even looking at me. Her broom is propped against a tree, and she's standing, busy with her spell.
She's conjuring this breeze. Sending it towards me. Her white gloves glow a warm orange that illuminates her face; like a bonfire in the purply grey dusk streaked with the blackness of trees. Her forehead is lined with concentration; then her eyes lift from her hands to look at me. An invitation.
I shake my head, let my broom fall, and run back. She barely has time to whisper 'Cecilia' before my lips meet hers. The softest lips I've ever kissed. She opens her mouth and wraps her arms around me, pressing her body against mine.
We wear so many layers we must look like two snowmen hugging, and yet through it all, I can feel her warmth. And the warm breeze keeps teasing my hair. I detach from her, with my eyes still closed I whisper, 'Why do you do this to me?' She chuckles. 'It got your attention, didn't it?'
I open my eyes and look at her. She's beaming with pride and my heart swells. Little shy cutie pie Jade has come a long way. I frown, stroking her cheek. 'So, you still want my attention.'
Part of me is jubilating at the thought, yet a pang of worry hits my stomach. She sees it, her face cracks a bit; she bores her eyes in mine and drops the bomb.
'I'm in love with you, Cecilia. You know that.'
That knocks the air out of my lungs and my knees threaten to give way. I let her go and sit hastily on a rock. She kneels down in front of me. 'Are you okay?' I'm so far from okay I can't even make up a decent excuse. 'I… can't… breathe.' Oh no. Now she's alarmed, her eyes are even bigger. I didn't think that was possible. My whole chest feels like I'm being pressed by the tightest, worst-fitting corset. I'm sucking air in big gulps, and it's not enough. Am I dying?
Jade places her gloved hands on my knees. If I'm dying, at least her face will be the last thing I see.
'Cecilia,' she whimpers, 'Look at me. I'm going to start counting now.' Counting? What is she talking about? I'm dying here. My chest feels like it's about to collapse onto itself. 'What?' I manage to exhale. 'Cecilia.' One of her hands takes mine. 'It's okay. I'm here. You're fine. You're not dying. You can breathe. Breathe with me. Now.' I'm not dying? 'What?' I rattle. I'm shaking badly, my teeth clatter like maracas. 'Follow me, Cecilia. Do you understand? Nod if you understand.' I nod. 'Good. Now inhale for four seconds. Can you do that?' I shake my head. I can't focus. I'm choking, I'm going to die, I know. Then I smell it again. The soft chocolate breeze. Jade's hand cups my cheek, and she meets my eyes again. 'Breathe with me, Cecilia. Please. It's okay, just follow me.' Fine. I nod again. 'Good. Now inhale, one, two…' She inhales, holds her breath, exhales. I try to follow. My chest is heaving so badly that my breath keeps hitching. I keep losing track, gasping, sobbing. She starts again and again. After what feels like an eternity, my anguish subsides, my limbs start relaxing. Before I realise, I'm collapsed in Jade's arms, my head on her lap. Enveloped by her warmth, immersed in her scent. Fresh linen, chocolate chip cookies, the coconut oil on her hair. She cradles me, strokes my hair, whispering 'I'm here, Cecilia. It's okay. You'll be fine.'
'Why won't you leave me alone?' Is that me talking? 'I'm no good, Jade. You're wasting your time. Just let it go. Why are you so fucking stubborn? Why can't you find someone else?' She doesn't answer. She doesn't stop stroking my hair. I'm hugging her lap, burying my face in her coat. 'I'm getting you all wet. I'm a mess. I'm such a pathetic mess.' 'Cecilia…' I look up at her. Her eyes are shining on me. 'Are you feeling better?' I get up on my knees, rubbing my cheeks, my eyes, my nose furiously. My sleeve is none the better for it, but I don't care. I can't stand how calm and competent Jade is right now. The breeze, the breathing, the cuddles.
'You're not listening to me, Jade. I said you're wasting your time.'
She sighs. 'Will you knock off this bullshit, Cecilia? It's getting tiresome.'
'What?' A corner of me is surprised because Jade never curses. The rest of me feels a rush of satisfaction. This is my territory. 'You're telling me to knock it off? How about you knock off this childish infatuation? Man, you're persistent.' I get up, just registering that my ass is wet from the snowy rock. 'How many more times do we have to rehash this drama before you give up?'
Jade doesn't answer. Instead, she gets up, lifts her hand, and magically dries up our clothes. The humidity from the snow, tears and snot that are covering us hovers over her palm and takes the form of a transparent, crystal-looking snowflake. Then in a gleam of her eyes, the snowflake crashes and the pieces fall to the ground. She shakes her head, retrieves her broom, and leaves me alone in the clearing.