Argibel The Orc : The Bitter Romantic Chapter 2
Image: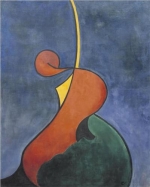 Sat, 21 Jan 2023
   Mannioch, the King of the Orcs in the mountains at that time, was trying to force the Elves to stay in their fortresses at that time. He did not want them thinking they could pass through the mountains at their own will, even in large groups. He said the mountains belonged to the Orcs, and everything within them. He did not like Dwarves either, or men. Argibel thought the King had been encouraged or threatened into this policy by some outside ally, perhaps another Orc leader elsewhere, or, who knew, perhaps the Dark Lord himself. He had never followed this complete war plan before.
    Then Mannioch gave speeches to his Generals and officers, even to the sergeants, saying that the Elves were detestable and would wipe out the Orcs if they ever got the chance. Because Elves could live forever they were dangerous. Their numbers could grow until there was nothing left for the Orcs in the mountains. Elves would build more fortresses and come out to battle, and kill Orcs until they became fugitives.
    Mannioch collected the largest army of Orcs Argibel had ever seen in his lifetime of raids and wars. Mannioch became a very powerful King. The King sent out scouts to watch the Elves in their fortress and in the woodlands which were theirs. When they came out their presence would be reported and the necessary sections of the army would be sent to capture or kill them. A sizeable group of Elves were noticed coming from the west, travelling in the direction of their great fortress. There were Elf warriors, Elf Lords and their Ladies, and what appeared to be some young Elves, the recently born. Perhaps they were travelling to meet relatives or for some important Elf wedding ceremony. None of the scouts knew what the reason was for this band. They were a large band, but to the amassed armies of Mannioch they could present little threat at this moment. Only a section of the King's army were sent to deal with this incursion into our homelands. Argibel was one Orc who was in the band of Goratz, the General, which was sent to capture and kill these enemies of the Orcs. Another band under Grabig were sent also, from the caves above the pass.
    The elves were vastly outnumbered, remembered Argibel. He felt the joy of battle as he charged with Goratz's band down the sides of the hill. He could see Grabig's smaller Orcs coming up through the trees on the other side, and the moments when the cruel elves realised they were completely surrounded by a large army. At first they began to form up surrounding their women and young to protect them from Goratz's band, charging down the hill. When they realised the woods behind them were thick with orcs too, the firepower of their arrows was spread more thinly as some of the elves moved below the road to protect the elfwomen and young from Grabig's band.
   Some of the Orcs in both bands loosed arrows at the Elves before they ran, but there was some distance for the arrows to travel and Elf armour and shields were protective of them. Even the Elf women snatched shields up and wore protective armour on this journey, so the injury to the Elves was not yet great.
     Most Orcs joined the rush to overpower the enemy. Argibel could smell an easy victory. Despite the risk to himself from Elf archers who knew how to aim and were ever accurate, and often deadly, they would not be able to use their bows when the combat became hand to hand.
    She was his, this hated elf, but he had fought for her, inexplicably. Grenog would have used her and then wasted her. He couldn't be sure whether he had fought because he wanted to be the one to take his vengeance out on the elvish race rather than Grenog, or whether he wanted to save this prize from being spoiled and thrown away. He had waited a long time for one of these, ever since he had lost the human woman. Anyway the elf woman was his now. He would have plenty of time to consider her fate.
   He untied her from the tree and drew his sword, still fresh with the blood of her fellow elves, and to which he had so very nearly added Grenog's. Elf females were strong and quick, much like their males. He would have to watch her closely, until they got back to his cave. Even then she would have to be tied up. She would want to run away, so he would have to prevent her.
    The elf cowered as he approached her, although it should have been obvious he had fought Grenog for her, and could not wish to despatch her immediately. He held his sword down and gestured for her to move in front of him. She did not know which way to go at first but her frightened eyes asked him. When she gestured along the path he intended he nodded in the language of the body which even the elves understood. She walked along at a pace which was too slow for Argibal. He waved his sword and shouted at her, "Move. Faster." He knew no elf words, but she seemed to understand, picking up her pace, glancing around nervously to check she was doing the right things. Argibel observed her as she walked. Her attire was not that of a warrior. She wore a blue tunic, which was loose fitting on her slender elvish frame. The tunic ended above the knee and the thin legs were covered in a silky material which was tight to the leg. He could see the slender shape of them, ending in leather boots. Something about those legs drew his gaze as she walked. They were like curved sticks, but quite beautiful. Even an Orc could appreciate that beauty!
     A few miles later he realised he could not stand it any more. They were deep in the forest by now. He sensed there were no other creatures around, friend or foe.
    "Right!" he said. "That's enough walking," he shouted, more loudly, as he found his voice. "Stop!"
    She twisted her head, alarmed by the vicious sound of his order. She probably could not understand what he said, but the message was plain. She stopped and he looked around for the best spot. There was a handy tree, just off the path, sufficiently far not to be seen if more travellers passed by. The grass was dry before it. It looked a good spot for what he had in mind. He led her to it, pulling on the rope until she stood where he wanted, and tied the rope securely around the tree.
    "Take 'em off," he shouted as he came towards her. He didn't know why he gave her the chance. She was his prisoner now, his property, until he decided to get rid of her. He should just take her clothes off, but somehow he wanted her to behave as he would expect an orc female to. Orc females were usually obliging once they knew you were going to take them anyway. They actually liked it. The attention of an orc warrior made them feel they were something and gave them some excitement in life. He wanted this elf lady to accept him. He knew he would enjoy it more if she did. He had enough of fighting often enough, and right now he just wanted to satisfy his instincts and have a good time.
     She didn't know what he was saying. He grabbed her tunic and made as if to rip it, gesturing that it come off and down. She cowered back from him, all the time piercing him with those bewitching eyes, purple, blue and yellow, and strangely riveting. She spoke in a soft and unfamiliar language which must be elvish. He guessed she knew what he was meaning, but she was saying no. She was his prisoner and his anger quickly began to rise. She would do what he wanted. She was lucky not to be dead yet!
   He saw the futility of trying to persuade. He grabbed her and unbuttoned some buttons on the tunic while she wriggled against him. He paused to hold her small form close to him. He could feel his own excitement rising and held her some more. She pleaded with him in her own language but saw the futility in resisting too hard. His penis was very hard now. There was none of the messing about he sometimes had to do to get himself up when he was with Gruby or some other orc conquest.
    He was taken by the desire to kiss that elvish face so pure, now, while he had her close in his grip. Kissing was something he wouldn't always bother to do with an orc female. They weren't all that inspiring usually, so it was something he often missed out. He said, "Hold still elf," as if she could understand, and brought his lips to her smooth flesh. She shuddered and tried to keep her head away, but he was strong and driven by a passion. He kissed her cheek and began to lick the face. He might have done that to upset an orc female, but with this one he was following his own instinct. He struggled to find her mouth. She twisted and pleaded in her own language and made it difficult for him, but he pressed onto her red lips and forced his tongue upon her clenched teeth. He wanted her at that moment more than he had ever wanted anything. He wondered if the elf was using magic upon him. He didn't trust them, but he didn't believe they had much magic themselves. Wizards and warlords might have some magic, but he didn't believe elves had real magic. His desire for this elf lady came from himself, he was sure. She was everything he desired at this moment, better than the human women he had kept before, and they had been good indeed.
   Eager to see the elf lady's body he worked on the tunic buttons again while holding her tightly. She allowed him to take it off, perhaps aware that it would be ripped or destroyed otherwise. Then her white blouse became the next obstacle to his goal. He threatened to pull it apart, but she allowed him to unfasten the buttons and let it fall from he petite shoulders. There was a corset below, which gave shape to her slender body, accentuating breasts. Agitated by the sight of his prize he lost patience with buttons and bows. She sensed this and accepting something of her fate she made to unfasten it for him, speaking with calm voice to slow him.
    As the corset, which was her last defence, came away his eyes saw the full perfection of Elvish beauty. Why did he find the hated Elves so beautiful, he could not understand it. If this had been a male Elf it would have been dead by now, by his hatred and jealousy towards the race which thought itself so superior. But he had no way of denying this beauty which overpowered his senses. The white skin so supple and smooth, most unlike an Orc's. The proportions so slim and slender. The small breasts were like the unspoiled freshness of imaginary youth, but he was aware that this Elf was likely to be many years older than himself, although he did not know that for sure. Those breasts were not large but they fitted the frame of her body perfectly. The body was tight and supple, muscled in the arms, but not too strongly. The stomach was flat smooth and tidy, the hips wider but still slender. His eyes were drawn downwards to the mound between her legs, which was thickly thatched with pure dark hair. He wanted nothing than to get his aroused cock in the passage which must lie there, as soon as possible.
    Argibel placed his hand over her mound, ruffling her pubic hair. She was perfect. As he searched for her tight entrance she pulled away from him. Quickly he slapped her with a heavy hand, on her arm. "Be still," he cursed angrily. She understood what he meant by his reaction, and feared to anger him. She was tied to that tree so she could hardly run. He would have caught her if he did, or called more orcs, and it would be worse for her. She steeled herself.
    This time his grubby fingers prodded and found her entrance, exploring. She didn't like how dirty they were, but what could she expect from mere orcs. They were a dirty race, an ignorant and childish one, naturally cruel. His finger invaded her soft vagina. She feared its coarse nail scratching her. He touched her sensitive clitoris, but due to her fear and appalling situation she could feel nothing sexual. It was better that way. If he was to abuse her it was better not to feel anything, pleasure or pain.
    Having found the entrance Argibel explored with his finger. There was moisture, but it was much more dry than an orc woman would have been. He forced another finger in and tested its width. She was holding it tight but the more fingers he placed inside the wider it became. There would be room for his cock, which was bursting with anticipation.
    "Lie down," he commanded. She understood what he meant as he gestured too. She knew she must submit to this final indignity, and just hoped he would not kill her afterwards. Nonetheless she could sense his deep desire for her body, so she hoped, as she had never had to do before, that he would care enough to keep her alive after this indignity, which she knew was to come. She lay back on top of her discarded clothing, while he unbuckled his belts, unbuttoned his tunic and lowered his pants. She feared the big hardened cock which stood so erect. She feared his huge cock would rip her apart, or damage her insides. She hoped he would be gentle at least, but she could not imagine that any orc, like any mere animal, could be gentle.
    She felt his hot smelly breath as he brought his face close to hers again. Again he licked her, and she closed her eyes so she would not have to see his ugly face. It was easier that way. His strong calloused hands explored her naked body, feeling her breasts again. This orc was almost like an elf, or even a human, in the sense that he wished to savour her, to delay the moments when he would take her with his cock. His fingers played with her entrance, forcefully slipping further inside her than she wanted him to go. Suddenly his big cock was at her entrance. He pushed it swiftly inside her. It felt large, and she wished she was anywhere else but here, having this indignity done to her. Her body tried to resist, but it would all be in vain if she did that. She must keep this orc enamoured of her. She must not deny him the experience he obviously craved, or worse would befall her, such as torture or death.
     He had successfully mounted her. Swiftly he began to ride upon her, gazing at her beautiful face. Unlike orc women everything, nose, eyes, brow, lips, and the pointed ears, which peeped out amongst the generous strands of hair, everything was in the right place and the skin was unblemished and smooth. She exceeded any vision of beauty he had ever imagined. He could not believe she was all his, to hold as a prisoner for as long as he cared to. She had her eyes closed now, he noticed. That was just as well he thought. He did not want to see her accusing eyes, hating him and trying to shame him for being what he was, like elves always did. She was letting him have his way, without trying to spoil it for him. An understanding had been reached perhaps without the need for any discussion or additional threats. He was free to look at everything she had, the smooth curves of her flesh, the rise and fall of her well shaped breasts, the set of her shoulders.
    A rising excitement came upon him as he gazed at what was normally forbidden to orcs. The ache of his cock grew stronger as he pounded her. It was an easy ride, too easy! And when it was finished he squirted more seed than he ever knew he had deep into her elven body, and he grunted with a powerful exhalation which he could not help making, even though he did not intend it. He was glad there were no other orcs nearby, for they would have ridiculed him, in the petty humour of his race, for a long time, over that. He even flopped on her and allowed himself to wallow on her soft warm flesh for quite a few moments after that most powerful eruption. He had a weakness, that much was for sure, but it was indeed a most beautiful weakness. He never had expected to feel quite so fulfilled, and momentarily his poor orcish soul even felt at peace for a handful of moments.