The moon in the man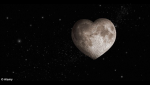 Sun, 14 Feb 2016
Your heart is the moon and mine the tide.
A compelling might stretching oceans wide 
Such powerful force between the two
I'm moved to and fro each day by you.
Who would cause the seas to part?
or still the love beating in my heart?
As the moon grows and swells to full,
so I'm brought forth with persuasive pull.
A dance that continues on and on
Never waning, always strong.
You can't deny the tide, nor I the moon.
Invisibly linked...
our hearts commune.