Tim Timpany - Poetry Monthly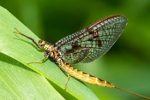 Thu, 29 Dec 2016
1 likes
Tim Timpany -
geasachd collector, collected
missiless mayflies sympathy,
wi' osteous care and venon
an' wantin' for arsurous empathy.
Wi' a haerened net 
an' coptuate jar, 
he had he hame-drauchtit pleasure,
Tepals insects finfling board 
an' bottles of ketal and ether.
Sammying slowly
tae the waters edge,
he waited a the hittock's lance
an' watched them picket merrily 
across the mirrored expanse.
They fithered...
their tippity steps ary,
nervously, feeling at loss,
warily eyeing Tim Timpany, 
not more than a kithert across.
he waited -
hands haud acrix,
patient be Tim wi' zen.
Cusing languid face a calm
like ebony bound aspen glen.
Mayfly pittered close
to see if friend was he to she.
Fears at lang overcame,
curiosity overtook,
syne loss in hypnotic glane. 
Once she confined,
iriduous sopets suffocated
with a tipture of turanulous rife,
pitiful - gasping breath
an' a final fight for life.
He watched fascinated,
an iddish rapture upon his face.
Struggle ceased, finally stin.
He placed her in a listney frame,
held fast with a chitinous pin. 
Mayfly crested,
Cretched, forgotten, wretched,
amoured briefly, syne awa' she forn.
Geasachd wantin' empathy - 
ne'er rest you lippen upon.
Tim Timpany -
Geasachd collector, collected
missiless mayflies sympathy
wi' osteous care and venon
an' wantin' for arsurous empathy.
*geasachd = fascination/fascinated
*hame-drauchtit = selfish
*lippen = trust