The Almsbury Ritual Part 2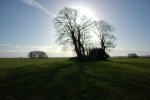 Wed, 24 Jun 2015
At supper on the 20th Mum said, 'GAP's arriving tomorrow.  It's Lady W's birthday, and she's having some people.'  Mum looked embarrassed.  'I've been invited to the dinner, but I'm afraid the invitation doesn't include you.  You wouldn't want to come anyway.  I shall be the youngest person there.'
'Oh,' I said.  'Tomorrow?'
Mum looked puzzled.  'Is there a problem?'
'No.  Of course not.'
Later, while we were doing the dishes, Velvet said, 'That's a stroke of luck for tomorrow, isn't it?  Your mother being out.'
'Yes,' I said.  'A real stroke of luck.'
Lying in bed I thought, what harm can it do?  We'll go up to the Barrow, we'll do stuff at the Barrow, nothing will happen, we'll be back before Mum, end of story.  I resolutely refused to even contemplate contemplating the question of why there was a story in the first place.
GAP arrived the next morning, and walked down from the Hall in the afternoon to see us.  Even at sixty-nine, GAP was elegant and graceful and as fashionably dressed as photographs showed her to have been in her twenties. 
'So,' she said, looking Velvet up and down.  'You're Jeffrey Crane's daughter.'
Velvet blinked.  'You know my father?'
'I was at school with his mother, and his father and my husband belonged to the same Club.  Why he had to adopt that terrible East End accent when he was in those awful films, I have no idea.  Is he still in Australia?'
I winced.
Velvet said, 'Yes.  He's a painter now.  That's why he stays out there.  He fell in love with the landscape.  He writes as well.' 
GAP said,  'Really?  He couldn't string a sentence together when I knew him.  Terribly good looking, of course, but hardly over endowed up top.  He must have changed a lot.'
'He has,' said Velvet.  The green eyes were shiny behind the milk bottle glasses.
GAP left at five, shortly before Mum came back from the Hall. 
'There's some cold meat in the fridge, and some salad.  That will do you for supper.  And there's some apple pie left.  I'll see if Mrs Harper will do me a doggy bag to bring back for you.  Some pudding, at least.'
'It's fine, Mum.  We'll be fine.'
'What are you going to do with yourselves?'
'Just telly, I think.'
She left again at seven, pretty in a silky blue dress and a white shawl.  'I'd better take the umbrella,' she said, from the doorway.  'It looks very ominous.  I think you two are in the best place.'
Velvet and I watched telly until the nine o'clock news.
'Better get going,' she said.  'Where's the stuff?'
'There's ages till sunset yet.'  I peered out of the window.  'It looks like it's going to chuck it down.'
'Don't you want to go, then?'
I looked at her.  If there had been one hint of compromise, I'd have met her half way and found a reason for us not to go.  But the green eyes were looking straight at me, defiant, almost amused.
'OK,' I said.  'Let's go.'
We walked along the narrow road that led towards the Barrow, and then onto the footpath which cut across the fields.  For about twenty minutes we walked in silence, before fat raindrops began to fall from the sky with increasing deliberation.
I stopped.  'This is ridiculous.'
Velvet said, 'You want to turn back?'
I shouted, 'Of course I want to turn back.  It's pissing with rain, I'm freezing cold, and this is just a…'
'A what?' Velvet asked.
'We don't even know if it'll work,' I said.  'And the sky's so dark now, how will we even know when it's actually sunset?'
'Does it have to be that accurate?'
'That's what it says in the book.  At the point when the sun dips below the horizon.  We can't even see the horizon.'  I took a step towards her.  'What did your mother say, about when she did it?  Was it raining then?'
Velvet looked straight back at me.  'No.  She said it was a beautiful evening.  She told Anouska they watched until the sun disappeared from the horizon, and then they did it.'
'Well then,' I said.
'I've brought my diary,' said Velvet.  'It tells you what time sunset is.  We can just work with that.  Unless you don't want to go.  For some reason.'
I started walking again.  'I'm fine.  You're the one with the anorak that couldn't keep out a fine mist.'
The sky got darker and darker and we reached the Barrow just as the first lightening froze the landscape.  I counted.  I only got to three before the grating explosion of thunder reached us.  I could barely see for the rain.  I was shaking, and the carrier bag with our so-called ingredients was running with water. 
I turned.  'Velvet – '
She was standing with her arms outstretched, looking up at the sky.  Rivulets of water poured off her glasses.  The useless anorak was soaked, dark and heavy.
'Velvet!'
She looked across at me and shouted something.
'What?'
She shouted again and I just heard ' – magnificent!'
I went up to her.  'I don't think it's safe,' I shouted.  'The lightning.  I don't think it's safe.'
She shook her head like a happy dog.  'Just don't stand under a bloody tree!  Come on, get the bloody stuff out!'
'We can't do it in this!'
She laughed.  She started to turn round on the spot, round and round, her arms outstretched, her face turned up towards the furious sky, her mouth open to receive the raindrops.  'No-one would bloody believe this!  Who would bloody believe this?  The Almsbury Ritual!  Bloody amazing!  Bloody amazing!' 
I reached out to grab her sleeve and missed.  'Velvet!  Come on!  We've got to go.  We've got to go back!'
She lowered her face, stopped turning and looked beyond me, to the Barrow.  She put her arms down.  'Look,' she said.
I stared at the green eyes, glittering behind the bottle lenses.  'What is it?'
'Just look,' she said.
'No.'
'Just look.
'No!'
She looked beyond me for a moment longer, then relaxed, and sighed.  'It's gone now.  I wanted to share it with you.  But it's gone.'
'What?'
She shook her head.  'It's gone.'  She shivered, and dug her hands into her pockets.  'Bloody hell.  I've got puddles in my pockets.  Don't know about you, but I'm bloody going back.'  She turned and started walking away, and the rain began to ease.
We were in bed before Mum got back.  In the morning she showed us the doggy bags Mrs Harper had made up for us, for reheating that day. 
'I would have come back earlier, to be honest,' she said, 'but the rain was so dreadful, I thought I'd hang on until it eased off.  And then GAP was in the middle of one of her stories, you know what she's like, so it was ages before I actually got away.'
'Well it doesn't matter,' I said.  'You weren't missing much here.'
'Well,' she said.  'What have you and Velvet got planned for today?  You've only got a couple of days left.'
'Nothing much,' I said.
The day after that GAP borrowed one of the cars from the four garages and took us over to Tideham baths again, and the following day she drove thirty miles there and back to take us to the circus. And then it was time for Velvet to go home.
I helped her carry her suitcase on and off the bus and into Great Almsbury station.  We had barely spoken since the night at the Barrow, except to keep up appearances in front of GAP and my mother.  I wasn't going to ask her about what she saw, or didn't see, or pretended to see.  I wasn't going to ask her about what she wanted me to share.  I wasn't ever going to ask her about the ritual both of us had been part of, and neither of us had understood.
'Don't come on the platform,' she said.  'Could be hanging about for ever.'
'OK,' I said.
'Well thanks,' she said.  'See you on 5th September.'
'OK.'
'Bye, then.'
'Bye.'  
I did see her on 5th September, when we both arrived back at school.  We said hello and she asked after Mum and GAP.  From then on we were self-consciously polite.  In the spring term her mother died.  It was in all the papers:  sixties singing star Mandie killed while sky diving.  All the accounts mentioned she'd been in a relationship with the pilot of the plane.  Somebody found Jeff Crane, who wasn't in Australia but running a real estate business in Nevada, and the papers said their daughter Velvet was going to live with him.  They had a blurred picture of her at Mandie's funeral.  I was going to write and then I realised, I'd never had her address. 
Just recently her name came up by chance on an Internet search.  I followed the links and there she was, with straight teeth, sleek hair and contact lensed green eyes.  From her base in Nevada she was offering a way to find inner truth and healing.  It wasn't easy, said the website, and it wasn't quick, but her own experience and that of her many satisfied clients showed that there was a way to achieve real inner peace and enlightenment, by working through her own specially developed program, which she called The Almsbury Ritual.