Flowers (Part One of Two) (IP)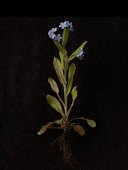 Thu, 07 Jul 2016
Eventually Miss Trent came and found me and asked, 'What's the matter?'
'Nothing.'
Miss Trent, who was ancient, at least forty, sat down on the step beside me.  This was disconcerting.  I'd never seen a teacher sit on a step before.  Her thighs fought against the constraints of her woollen skirt, and the bumps of her suspenders were visible through both wool and lining.
'Do you know how long I've been a teacher?'
'No.'  Of course I didn't know that.  How could I know that?
'Eighteen years.  Eighteen long and glorious years.'  She sighed.  'And if I know nothing else, I know that when a girl goes scarlet and marches out of a room without saying a word, something's the matter.'
'I'm sorry,' I said.
'I didn't ask if you were sorry.  I asked what was the matter.'
Poppy Davenport was the matter, but I wasn't going to tell Miss Trent that.
'It's Poppy Davenport, isn't it?' she said.
'No.'
Miss Trent gave another sigh.  She looked at her plump calves in their thick beige stockings, and her large feet in their brown polished brogues. 
'I've never known a girl quite like Poppy Davenport,' she said.  'I've never known one cleverer, or more beautiful, or more naturally talented musically and artistically, one who has a range of three octaves, one who could probably write a novel in six weeks if she put her mind to it, and hold her own in any debating chamber in the country.  I've never, in all those eighteen years, in all my life actually, I've never known a phenomenon like Poppy Davenport.'
'No,' I said.
'So being her stepsister must be a bit of a bugger,' said Miss Trent.
I went rigid.  I had never heard a teacher swear.  Particularly not using that word. 
'And having her come to your school and dazzle everyone you know, pupils and staff, must be even more of one.'
I considered that if I jumped up and ran very fast, I might be down the drive and out of the school gates before Miss Trent had got those plump calves moving.  They would find me eventually, and then it would be letters home and detentions for a week, but anything was better than this.
Miss Trent said, 'And having her say horrible things about your mother must be the final clanking nail in the coffin.'
And now I couldn't move.  Not one of my muscles would respond to the message of flight being screamed from my brain.
'We don't go around with our eyes and ears completely shut,' she said. 'But you need to tell me exactly what's going on and what's been said, if you want anything done about it.'
I stared at the gravel path straight ahead.  A faint scent of honeysuckle mingled with the warm, earthy odour of the horses in the stables behind us. 
Miss Trent sighed again.  'There's not really anything we can do, if you won't be straight with us.'
I concentrated on the sparkles in the gravel, brought to life by the sunlight of a fine October afternoon.
After another sigh Miss Trent said, 'Your mother is a lovely woman.'  She patted my shoulder briskly.  'Poppy's father obviously thinks so.'
A swell of nausea began to rise from my stomach.
'It's always difficult, being part of a step-family.  But of course, you're not the only one, even in this school. It's the war's fault.  So much disruption, so much ripping of the social fabric.'  Miss Trent shook her head.  'You'd think, nine years on, we'd be starting to heal, but we don't seem to be. Perhaps, now rationing's ended, and everyone can get a proper helping of meat inside them…'
My legs finally permitted me to stand up.  'Please excuse me, Miss Trent.  It's nearly time for prep.'
She looked me up and down.  'Are you obliged to go this afternoon?'
'I've got a history essay that's due tomorrow.'
After a moment she said, 'Very well.  Run along.  If you feel there is anything you would like to talk about, leave a note in my pigeon hole.'
Half an hour earlier, as I ran from the Common Room to the back of the stables, to take refuge on that cold and slightly horsey step, I had thought nothing could make my life more miserable.  I had, at least, learned a valuable lesson.  Nothing is so bad that it cannot get worse.
When I got back to my room, Poppy Davenport was sitting on my bed. 
Aster Hall was not a large school.  I think there were, in October 1954, fifty-three of us, between the ages of fourteen and seventeen.  We didn't wear a uniform and there were no more than four of us to a bedroom.  The school, it said in the prospectus, offered experiential education, after the Dewey model.  I never knew quite what that meant, other than that we were not supervised after the evening meal and it was therefore survival of the fittest at night time.  I had been there a year, and this term I had been joined by my new stepsister, Poppy Davenport.
'Enjoy your little tete-a-tete with old dyke Trent?' she said.
I had no idea what she was talking about.
'You're pathetic,' she said.  'This place is pathetic.  I'm going to write to my father.  He only sent me because your mother said it would be good for you, because you didn't have any friends.  Your mother's pathetic.'
The problem was, her mother was dead, not just divorced, so you couldn't.  You just couldn't.  However much I hated Poppy Davenport, being rude about someone's dead mother just wasn't…well, it wasn't.
She looked at me.  'Why did they chuck you out of your last school?'
I went and sat down on Christine's bed.  For the first time ever, I wished that she and my other two room-mates would come back.  But they wouldn't, of course, until Poppy Davenport told them they could. 
'Well, why was it?  My father said your mother never wants to talk about it, but he reckons you were bullied and you just couldn't handle it, because you're pathetic.'
The fragrance of lily-of-the-valley rose from Christine's pillow.  Her mother was dead too, and Christine always wore lily-of-the-valley scent, because her mother used to.  Why would you want to smell like the dead?  Why would anyone want to smell like the dead? 
Poppy Davenport had a souvenir of her mother, an enamelled forget-me-not brooch.  Her mother had it when she was a girl, and passed it on just before she died.  Poppy Davenport often declared, to anyone within hearing, that it was her most precious possession and she herself would die if anything ever happened to it.
'It's none of your business,' I told her. 
'Well it is my business.  I'm your sister now.  We're family.  I get to know everything.  Like why your father left you.  Apart from because you're pathetic.'
'Shut up.'
She leaned back, propping herself up with her arms, her perfect, curly golden hair cascading down her back, her clever blue eyes searching my face, ripe pink lips curved into mockery. 
'Because besides being pathetic, you're queer.  You're strange.  That's why you haven't got any friends.  My father thinks so, but he's too nice to say.  Your mother thinks so, but she's your mother, so she's not going to say either.  But I'm going to say.  I think you're peculiar, and I think that's why they chucked you out of your last school.  And it's probably why your father left.'
Clever, clever Poppy Davenport.  With your blue eyes observant beyond their years, and your quick brain making connections that the dullard Lewises, who ran the experiential school, and the plump Miss Trent, who thought notes in a pigeon-hole would do it, were unable or unwilling to make.
But one thing, Poppy Davenport, you didn't have, sitting there so full of confidence, so sure of your place in our experiential school, one thing your precocity could not give you: experience.
You didn't know when to be afraid of the small things.  The inconsequential things.  The lower orders.
I smoothed Christine's lily-of-the-valley scented pillow. 
Part Two of this story is here: http://www.abctales.com/story/airyfairy/flowers-part-two-two-ip