The Net Caster (Part Sixteen)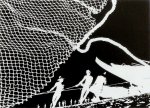 Tue, 15 Mar 2016
She said, 'Where's the satisfaction in owning a slave that doesn't want to be free?'
I smoked the last of the wrap.  ' You think the AI are slaves?'
'No, they're machines.  But we, the biologicals, we insist on making them more.  We always have.  From the moment the original humans created machines which could simulate humanity, they became obsessed with the idea that those machines would one day develop consciousness.  Independent consciousness.  And a desire for mastery.'  She pushed the small tin towards me.  'Have another. They're natural.  No chemicals.'
I lit another. 
She said, 'It was one of the dominant themes of late Pre-Event culture.'
I said, 'I'm familiar with the stories, and the theory that the creation of AI may be encouraging a biological god complex.'
She said, 'So like all gods we endow our creations with the free will to disrespect, disobey and disbelieve. And then the rest of the story is supposed to be about punishment, repentance, tests of faith, failure, success…all around the relationship between creator and creation. Except, in this case, the endowment of free will is all in our minds, and fulfils a need for us, not them.'  She looked back up at the screen.  They were rounding up AI in the Klondike.  'Gods without a challenge get rather bored.'
I said, 'I think biologicals have enough problems with each other's free will, without having to manufacture it for AI.'
'Do we though?'  she said.  'We've become very good at separating ourselves from each other precisely so those free wills don't clash.  Creating enclaves where like-minded and similarly featured biologicals can put their particular free will to a common cause.  We zoom around between systems for business and for tourism but, with a few exceptions that prove the general rule, we remain living in our system of origin.  And,' she leant towards me, 'we let other systems get on with it.  We respect them as other members of the diaspora.  Unification is all about ensuring that the diaspora remains united as one entity, albeit made up of many parts.  Because we are only just starting to realise how extraordinary that entity is.'
'Extraordinary in what way?'
'I refer you back to your mother's lectures about Pre-Event Earth.  In addition to the original humans' obsession with their own machines destroying them, they carried another conviction about the future.  That one day they would go to the stars, and they would find strange new worlds, new life and new civilisations, and boldly explore them.  The questions were all about who would be smarter, who would enslave whom, how would we match up?  And then, when the original humans did go to the stars, what did they find?'
I looked at the images from the Klondike.  Set faced biologicals watched humanoid AI being loaded into ERVs.
'Nothing,' I said.
She inclined her head.  'Nothing.  Apart from some stubby vegetation and the odd microbe which they destroyed before it could destroy them.  But really, nothing.  No sentient life.  The original humans found themselves alone in the universe.'
'Hardly,' I said.  'It's only since we've had jump travel we've been able to cover the distances, and we probably haven't explored a millionth of the universe yet.'
'But in all the very different environments we have come to, we haven't found a thing.  There is a real possibility that there is only us.  An aberration.  A random accident of nature.'
'The Returners would say it isn't an accident.  It's evidence of some divine purpose and we need to get back to where we started to find out what it is.'
She said, 'Of course, you would know all about the Returners.'  Hamish had done a thorough briefing job.  'But even those of us who aren't Returners seem to want to find some sort of order in the universe.  Or to create some.'
'It's what biologicals do,' I said.  'I learned that much from my mother.  We create order out of chaos.'
'Or we impose our own version of order on something which has been getting along quite nicely without us.  We have worked tirelessly to impose it.  Thanks to AI, we have developed means of standardising all those strange new worlds.  We can now identify entire star systems by one name and know exactly what that name means.  The Klondike is tunnels and roughness and a lack of flair.  The Dune is dust and dictatorship, the Kraken canals and canoes and a certain watery madness. The Serenity is ice and mountains and strange, beautiful physical and mental eruptions from its strange and beautiful planet core and its strange and beautiful people.  The original humans would have called it terra-forming, but apart from the Returners no-one now is interested in recreating Terra.  Except here in the Aphrodite, of course, where shrewd biologicals have identified a market for both tourist and academic curiosity. But that isn't recreating Terra.  That's manufacturing a fantasy.'
'However clever we've been,' I said, 'we still haven't managed to make all biologicals love each other.  We still murder each other and oppress each other.  We still have to make AI look like the local bio population because if they look like someone from the Serentity they'll get the shit kicked out of them in the Dune, and if they look like someone from the Dune no-one in any other system will give them a room for the night without a Unified police check and a hefty damage deposit.'
'We haven't had a war since we left Earth,' she said.
'We haven't had time,' I said, 'with all this terra-forming and creating AI to challenge our god like dispositions.'
'We haven't found an other to wage war on.'
'From what I remember learning at my mother's knee, we have always been quite capable of turning our fellow biologicals into others who need to be eliminated.'
'But now,' she said, 'we know, in a way we never knew when we were on Earth, that there may well be only us.  They may be violent thugs in the Dune, but they're our violent thugs.  They may have water for brains in the Kraken, but we know where we stand.  We are all part of the same diaspora.'
On the screen, there was an image of the spouty politician who had been so averse to AI rights.
'So the AI are our other?'  I asked her.  'As well as being our disobedient slaves?  What are we going to do?  Go to war with them?  Creep up on them in the night while they're hooked up to their charging inputs?'
The smile formed by her thin pink lips did not reach her eyes.  'Something does not necessarily have to be true, or even to make a lot of sense, for it to matter, or be believed, or be used to justify political action.  Sometimes it just has to sound right and feel right to enough individuals.'
I looked back at the screen.  'This isn't really about AI rights, is it?  And are you really concerned with some existential crisis about gods and others and being alone in the universe?  This is about politics, and who's in control.'
She said, 'Everything is always about politics and who's in control.  It doesn't mean there aren't other questions.'
I looked back at her.  'The Net Casters are part of the control, aren't we?  The programs are powerful tools.  They can find someone who doesn't want to be found and give a good idea of why they don't want to be found.  I'm guessing that making sure certain individuals aren't found is pretty important to you, whoever you represent.  You can't control the Casters, so you want to destroy them.  That's why I'm here.  That's why I've been set up.'   
She stood up.  There was something in the hard eyes that might almost have been pity.  'What do you think the Net Casting project is for?' she said.  'Tracking petty criminals and the odd subversive round the systems?  All that time, all that effort, all that money, spent for something the Unified could do with straight forward intimidation and bribery?  And if we're talking control – what happened to the last Net you tried to cast?'
After a moment I said, 'You did that?'  And then, 'Are you working for the government?'
'Not all of it,' she said.
I finished my wrap.  'Okay. So what are the Nets supposed to be looking for?'
'The other,' she said.
'Alien life?  I've never been asked to cast for anything like that.  No Caster has ever been asked to look for that.  You think you could keep something like that secret?'
She sounded impatient.  'You do your cast, you take your traces for whoever you're supposed to be finding, then what happens?'
'The rest, the traces I don't need…'
'Are sent back for general analysis by the Agency, to see if anything has come up which might be useful to another investigation.  They never tell you what kind of investigation.'
'I would know,' I said.  'I would know if there was something – unusual, in the trace.'
'And put it down to a blip, a glitch in the system, interference.  You're always on the job, always with the subject of your particular cast in mind.  You're a data collector.  You do a bit of good on the side, bring in some criminals, locate some subversives, but your main purpose is data collection.  For general analysis.'
I said, 'The Unified police rely on Net Casts.'
'Well, congratulations on that,' she said.
I looked out of the window at the blue sky and the two gleaming suns.  Beyond the courtyard lay Cytherea's carefully constructed boulevards, side streets and alleys, its talking taxis and its Pleasure Quarter where AI cooked food they could not eat, sang songs they understood only as rhyming words and harmonious notes, and gave pleasure they themselves could not feel.
'A data collector,' I said.  'One fucking step up from an averagely functional AI'.
'Now,' she said, 'you have the chance to be something else.'
​To be continued...