The Net Caster (Part Three)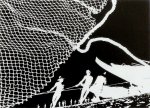 Thu, 11 Feb 2016
'Mr Mansoorian sends his compliments, Sir.'
It was the AI girl from the restaurant.  Hazily, I wondered if Hamish had sent her to kill me or to fuck me, the first being a definite and the second a possible way of neutralising whatever threat he thought I posed. 
'That's very kind of him.'
'Mr Mansoorian sent me to advise Sir to leave the establishment immediately.'
By now I'd found the light button next to the bed.  The girl was still in her restaurant uniform (Many AI actually have nightwear for when they're in charging mode.  I've never been able to decide if that's desperately sad or slightly amusing.) and was holding my gown, my coat and my boots.
'What?' I asked.
'Mr Mansoorian said that if Sir started to ask questions I was to tell Sir to shut the fuck up, get dressed and follow me to the staff entrance.  Mr Mansoorian said to tell Sir, on the soul of Delany, that this is for Sir's own safety.'
All through Junior, Middle and Senior Academy.  The one unbreakable, unimpeachable token of good faith.  On the soul of Delany.
She put the clothes and the boots on the bed and turned her back in respect for my modesty.
I pulled the gown over my head, stomped my feet into the boots and picked up my coat.  'OK.'
She started towards the door.  Behind her, I picked up the small black case with my casting equipment.  If this was a ruse to get me to leave it, Hamish really should have known better.
The corridor was dimly lit and deserted. 
'This appalling threat,' I said to the girl, 'applies only to me, I take it.'
'No,' she said, without turning.  'But Sir's the only one Mr Mansoorian is going to save.'
I followed her through the transparent tunnel to the StarMo's reception area.  It too was deserted. 
'Where is he?'  I asked.
She didn't answer.
At the end of another transparent tunnel was the outer door.  A black surface car had locked on to the air tight seal. 
'Sir's vehicle,' she said.
'Where am I going?'
'To the stellarport.  Mr Mansoorian has booked Sir a berth on the Bellona, which is scheduled to leave in an hour.  Sir is booked as far as Cytherea, the first stop in the Aphrodite Cluster.'
'I've just come from the Aphrodite Cluster.'
'Then it will be familiar, and there should be no difficulty picking up a berth to wherever Sir wishes to go next.  Mr Mansoorian has left instruction at Cytherea, no payment will be required for Sir's ongoing journey.  And he said not to worry, even Sir couldn't follow the trace back to him.'
'What's going on?'
'Sir had better hurry, or Sir will miss the flight.
'And if I don't go?'
The girl said in neutral tone, 'Then Mr Mansoorian will not have succeeded in his efforts to save Sir.'
********************
Years ago, way back on Pre-Event Earth, they used to imagine that interstellar travellers would go into suspension because of the time involved getting from one planet to another.  Then came jump travel, and the only reason for suspension was to spare the traveller the excruciating nausea and joint pain associated with it.  Like I said, I don't suspend well, and I have wondered if I wouldn't be better off taking my chances with the jump effects, but those who have tried it tell me I really, really wouldn't be. 
So I tumbled out of the disembarkation tube at Cytherea and headed for the nearest rest room to heave my guts up and shovel down something that would stop the burning in my brain and the trembling in my limbs.  Apparently I am extreme in my reaction to suspension; only ten percent of travellers suffer to that extent.  My mother used to say it was a sign that I should stop floating around the systems and settle down somewhere, but she never had the algorithms to back it up.
Although I was familiar with much of the Aphrodite Cluster, I had never been to Cytherea.  It's a high class tourist destination, climatically pleasant, handily placed for short trips to the Kraken and Serenity Systems (and the Klondike, if you fancy a bit of rough and ready), and with a liberally minded administration that is happy to licence most forms of pleasure and quite a few of pain.  It may not have quite the flesh pot allure of the more central resorts, but it's very popular with older holidaymakers and younger ones who aren't quite ready for or can't afford the centre.
The inside of the stellarport was a vision of cultivated marble, mainly mellow cream and a gentle rose, with the occasional insert of black diamond.  Very classy, very different from the enthusiastically shiny interiors of most stellarports.  From the look of the rest room attendant, I got the impression that they weren't used to arrivals heading straight for the nearest sanitary ware to chuck up.
I took stock.  All I had was what I stood up in and my casting equipment. (I had a moment's pang for the bottle of Aphrodite hooch, still sitting on the occasional table.) And a very great deal of money.  Hamish had left more than my ticket at the departure desk.
Shake your head at my naivety.  You can't understand.  Some day – if I have another day – I'll tell you about me and Hamish and our history, and why the old Delany oath made me trust him.  Right now, you'll just have to believe me: it made some kind of sense at the time.
I visited one of the numerous stellarport cafés and bought a coffee, paying – after a moment's hesitation but with no alternative -  with the intersystem CashTab Hamish had left for me.  They're keen on all the old Pre-Event Earth food and drink in the Aphrodite, hence the whisky.  It's one of the main draws for the tourists.  I have no idea what genuine Earth coffee tasted like, but the rich, dark liquid served in the stellarport café warmed my stomach and unclogged my brain.  I remember at Academy they told us that Earth coffee was often mixed with another liquid, a white excretion from some sort of animal, but even in the Aphrodite they draw the line at some things.
I sipped my coffee and smoked my complimentary herbal wrap.  The first doubts began to prickle.  I had now accepted a large sum of money from a 'businessman' who was also an old acquaintance, as well as travelling between systems at his expense.  There was no evidence whatsoever to back up the story about some terrible danger that he was set on saving me from.  More immediately, I was extremely unlikely to be able to complete my assignment for the government agency which employed me.  As far as I knew, my designated target had never been anywhere near the Aphrodite.  Even if I managed to complete the task, I would miss the appointed deadline, and this one was to be used in court evidence. 
The prickle became a systematic stabbing in my brain.  Hamish must, somehow, have known who the target was, presumably a friend or 'business acquaintance', and by chance I had given him the opportunity to ruin both the casting and my reputation.
I long since lost count of the times Hamish out-manoeuvred me at Academy and afterwards, charming his way past me and everyone else and managing to leave us all with a smile on our faces.  But this.  This…
On the soul of Delany, indeed.  Blasphemy.  Blasphemy.
I went into one of the Retails on the concourse and bought a basic Player and a news Square.  I tucked in the earinput, latched the Square into the Player and set it to search for Klondike input while I looked around the concourse for a Retail selling clothing, preferably gowns but I would take any replacement for my now less than fragrant apparel. 
'…among the dead was Mr Hamish Mansoorian, owner of the StarMotel where the explosion occurred…' 
​To be continued...