The Net Caster (Part Twenty-Five)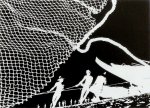 Fri, 06 May 2016
'We have to look to moving on,' Hamish said.  'We have to look to finding new worlds, new places to settle.  We are heading towards a repeat of the Earth Event.  These planets will become uninhabitable, and if we do not repeat the action our ancestors took, and find new homes, our race will die.'
I looked at Melanie, hoping to see a look, a raising of the eyebrows, a twitch of the lips, indicating that whatever her reasons for being here, they did not include belief in this fairy tale.  But her steady, sober gaze towards Hamish did not falter.  I looked at Madam, probably the most calculating, ruthless, pragmatic individual in all of the diaspora systems, and her expression was almost the same as Melanie's. 
I said, 'This is nonsense.  This is the sort of thing the Returners come out with.'
'We're not Returners,' said the Unified officer.  'We're talking about going forward, not back.'
I took a deep breath and drank my wine.  'OK.  So the diaspora systems are disintegrating – all except the Aphrodite, apparently.  They're doing this all at once -'
'Yes!'  The Kraken Representative was blinking again.  'All at once!  Exactly!  There is a co-ordination in this!  There is a plan!'
'No, there isn't,' said the Unified officer.  'A fucking planet cannot have a plan.'
'Then you explain it!  We should have known.  We should have taken warning from the Serenity blights.'
'And done what?' the officer shouted.  'Gone back to Earth?'
'It sounds as though our Net Caster has some questions,' said Madam.
The others sat in silence.
'Yes,' I said.  'Quite a few.  One is, why is this all so secret?  Another, why are you blowing people up?  And for another, what the fuck has it got to do with the Net programme?  As far as I'm aware the programme cannot locate likely inhabitable planets.'  I thought back to what the Housekeeper had said on Cytherea.  'Or are you expecting the Net programme to find alien life traces and follow them back to their alien planets?  What's the plan then?  We go and join them or we avoid them?'
The Serenity Assembly member said, 'There is no agreement within the Unified government about what should be done.  There is no dispute about the evidence, but at the moment most people within government feel we should stay put and see if we can address the problem.  Their view is that if we managed to engineer the environments so that we could live here, we should be able to do something to stabilise them now.'
'That doesn't seem unreasonable.'
He said, 'It is not learning the lessons of the Event.  Millions upon millions died on Earth because the governments of the day did not take action soon enough.  You should know your Earth history, with your mother.  It took a succession of wars, military take-overs and mass slaughters before a proper programme of exploration was put in place.  The Event lasted for almost a hundred and fifty years.  The consequences for the bios could have been much less severe if action had been taken right at the beginning. '
'Earth didn't have the planetary engineering skills that we have,' I said.  'It didn't have the sophisticated AI that we have.'
'We were not meant to travel,' said the Kraken Representative.  'We were not meant to come to the stars.  But we did.  And now we are destined to repeat the same mistakes and employ the same solutions for ever, until we reach our final destiny.'  She lowered her head and picked up her wine with a trembling hand.
'I thought you supported this project?' said Hamish.
She sipped her wine.  'I do.  Of course I do.  I have risked everything to be with you.  We have no choice.  It doesn't make it right.'
'Pour me some more wine,' said Madam.  'Otherwise you may have to call in the AI to restrain me.'
Hamish refilled her glass. 
'So the government doesn't want to fund a search for other habitable planets?'  I said.
'They are worried that if we travel, it may destroy the diaspora,' said Hamish.  'What currently binds us together is the links that we share with a common place.  We have a collective history.  But if we move on, that will be harder to sustain.  The children of the Serenity are very different from the children of the Dune or the Kraken. The habit of acknowledging a shared origin will weaken, and it will be easier to dissipate among the stars.  It is stupid to deny that now there is as much dividing us as holding us together.'
'You sound like you agree with them,' I said.
Hamish shook his head.  'They are seeing the systems, and their populations, as they are now,' he said.  'This enterprise, this move onwards for our common good, this will bind us together.'
'Those who oppose us also believe,' said the member of the Serenity assembly, 'that we may just be putting off the inevitable.  That if we move on, we may face the same problem in a few centuries' time.  That we may become wanderers for ever. They may be right. It may be that our natural home was Earth, and any attempt to engineer other planets to provide a home for a species that did not evolve there can only, eventually, end in destruction.  But whereas they want to put everything into an attempt to solve our problem here, I believe that is too great a risk.  It will be too late, in ten or twenty or two hundred years, when we are being overtaken by events, to find out that our efforts were in vain.  It may be that perpetual wandering is our only hope of survival.'
'There is another fear,' said the Supervisor.  'If we go further into space, we may indeed find other species.  More advanced or more primitive, they may destroy us.'
'So the Casters would be a form of reconnaissance.  An advance warning system.'  I frowned at him and Melanie.  'But you both know that's nonsense.  We need a basic level of data to search for anyone, otherwise there's no anchor for the calculations.  We can't just throw out a search and see what turns up.'
Neither of them said anything.
'Can we?' I said.
​To be continued...