The Net Caster (Part Twenty-Seven)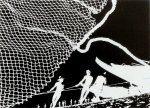 Thu, 12 May 2016
'You just had to be given the right job,' said Hamish.  'One that would need you to travel between the right systems, with one particular place the obvious stop for someone who's crap at inter-system travel.  But we ran a Cast for you, just to confirm.'  He nodded at Melanie.  She looked down at the table.
'I chose the StarMo at random,' I said. 
'Really?' said Hamish.  'I knew you wouldn't take the first one.  I'd seen the woman who does their reception.  You're a Caster.  You know better than anyone, nothing is ever really random.'
Melanie hid her face in her hands.
'We wanted a Caster in the StarMo,' said Hamish.  'A Caster who could be implicated.  Ideally someone from the Serenity, because everyone knows the children of the Serenity have a more intense relationship with AI than bios from other systems.'
'Someone you could manipulate,' I said.
'Someone who could be…persuaded to take a particular course of action and not ask too many questions.'
'Someone who would trust you.  On the soul of Delany.'
'Yes,' he said.  'You must see.  There's already a lot of ambivalence towards the Casters.  There's unease about what they do, what they might do.  People are scared of anyone who can look into the future.'
'We don't look into the future,' I said.  'We make scientifically based, mathematically calculated assessments.  It's like forecasting the weather.'
'No, it isn't,' he said.  'Not to everybody else.'
'But you want to use the Casters.'
'We do.  But we have to clear out the people who currently run the Agency.  Now, thanks to you, lots of questions are being asked about how the Casters are selected and vetted.  Of course they're not going to close down the programme altogether.  But they will want different people in charge.'
'Your people.'
'If we've done our job properly, yes.  And you can work with us.  You are a damn good Caster.  You can be part of this.'
'And if I choose not to?'
'Your choices are limited,' he said.
 'You fucking bastard,' I said.
'If it's any consolation,' he said, 'none of us has a choice.  We've set the wheels in motion now.  Every single person here has compromised their own safety for this.  We're here today because, honestly, things are moving more quickly than we'd anticipated.  We had nothing to do with the murder of the woman in the Kraken, we think that was the Returners –'
'The Returners?  The Returners aren't murderers.'
'Well,' said Hamish, 'if they're not, they made a good first job of this one.  Very little could have stoked up anti-AI feeling like that did.'
I thought of my sister, sheltered by AI during the blight in our childhood. 'I didn't know they were quite so rabid.'
'Not all of them are.  The ones who believe the Return is still possible are less so.  It's the ones who have realised the Return is a delusion who want to create their idea of an idyllic, pre-Event, pre-AI Earth in the here and now.   Unfortunately, they have no idea of the bigger picture.  And so, here we are, with a crisis on our hands.'
'Why here?  Why would you choose to convene here?'
'Precisely,' said Hamish, 'because very few people would choose it.'
'We are going to base the Caster team here,' said Melanie, not looking at me.  'Have the headquarters here, with the data, when we get it.  Obviously we will have AI guarding it, but there's less chance of an official investigation here.  A small team of Casters is here already, but they'll eventually be spread throughout the systems. It won't be safe to have them all here.'
I looked at her, my former lover, who had agreed with Hamish that I was the ideal candidate for manipulation and betrayal.
'There are certain sections of the Unified who are with us,' said the officer. 
'Certain Assembly members in all systems,' said the member of the Serenity Assembly.  'And in the Unified Assembly, obviously.  And some currently within the government.'
'You're planning to take over the Unified Government?'
'Eventually,' said the Kraken Representative.  'But we need more time.  And more opinion on our side.'
I turned to Hamish.  'You are going to put me on trial.  As an exercise in manipulating opinion.'
'No,' he said.  'Although it was discussed, and our friend in Cytherea was very much in favour.  But no.'
'Am I supposed to be grateful?'
'No,' he said.  'We're not giving you up for trial because there is the possibility the trial would fail, and that would raise all sorts of questions.  It was helpful for us to have you on the run in Cytherea.  It provided a link between the StarMo and the Pleasure Quarter.  A confirmation that it was connected with AI rights.'
I thought of the young man I had met.  'Did you set up the guy in the Pleasure Quarter, the one who spoke to me?'
'No,' said Hamish.  'His job was originally to make a lot of noise about AI involvement.  There were several of them in that crowd.  He's a field operative.  He recognised you in the street but was a bit flummoxed because he wasn't expecting you there.  He wondered if you were being set up for the explosion as well.'
'He was arrested,' I said.
'We wanted him on the News Squares, drawing attention to the fact that you were there.  He's been released.' Hamish nodded at the officer.  'We have enough people in the Unified to manage that.'
'And Crystal Forty-Two-Two-Nine?' I asked.
'Who?' said Hamish.  'Oh, the AI you destroyed.  Just an AI.  The restaurant owner will get compensation.'
Melanie finally managed to look at me.  'You'll be able to work.  We salvaged your case.  I know how much the work means to you.'
'No, you don't,' I said.  I turned to Hamish.  'Whatever you might think, it was never just about the algorithms and the calculations.  The work gave me freedom.  And something to believe in.  You may find it pathetic, Hamish, but I did believe in it.  What good is the work to me without that?'
He was silent.
​To be continued...