Tower of Strength Part 1 of 4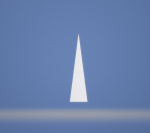 Fri, 09 Aug 2019
This story is inspired by the splendid Frankie Vaughn's version of 'Tower of Strength', a recording so ridiculously, riotously, gloriously bad it deserves a monument:  https://www.youtube.com/watch?v=chlYzNBFM0k
You can hear the author reading it on Soundcloud:  https://soundcloud.com/user-881984782/tower-of-strength-part-one
TOWER OF STRENGTH
    York's Tower of Strength was put in the middle of Parliament Street.
    Mrs Brenton looked disappointed.   'Is that it?'
    Her brother, City Councillor Todd, frowned at her.  'What do you mean, is that it?'
    Mrs Brenton lived in Lancaster, having left the white rose and married into the red twenty-seven years before.  She was sceptical of her former city's scramble to be part of the Tower of Strength project, conceived by the new King as part of his coronation celebrations.  Local Communities, Local Strength:  Proclaiming our Heritage was the slogan.  Each community was invited to design their own Tower of Strength as the centrepiece of their Proclamation, and bids for help with funding it could be submitted to the Tower of Strength Trust.  York was out of the starting blocks early, having had a lot of practice at bidding for things that might appeal to tourists.  The city's Tower was designed, funded and built while other local authorities were still saying, 'A what of what?'
    Despite her scepticism, Mrs Brenton had thought her brother might invite her to the official unveiling on the May Bank Holiday Monday.  When he didn't, she phoned him up on the Tuesday and remarked how long it was since she'd been to stay.  Councillor Todd blinked and said well any time, of course, so Mrs Brenton came that Thursday, before her sister-in-law got organised enough to find an excuse. 
    The Tower of Strength was a slim, solid block of stainless steel, fifty feet high.  The North facing side had the crossed keys of Saint Peter etched at about the five-foot mark.  The South side had Micklegate Bar, the principal city gate in medieval times, the West side the Minster, and the East some wavy lines that represented the city's two rivers, the Ouse and the Foss.         The block came to a point at the top, technically making it an obelisk rather than its popular designation, The Crayon.
    In sunshine the Tower was dazzling, which meant that people couldn't see the crossed keys, Bar, Minster and wavy lines unless they stood at a certain angle, shaded their eyes and squinted.  In bad weather rain streamed down the Tower with nothing on the smooth surface to impede its path, which meant that people couldn't see anything at all, no matter where they stood. 
    'Remind me,' said Mrs Brenton.  'How much did this cost?'
    'Worth every penny,' said Councillor Todd, stiffly.
    'Oh well,' said Mrs Brenton.  'I suppose it'll be a new backdrop for selfies and buskers.'
    Councillor Todd shook his head.  'Not as popular for selfies as you might think,' he said sadly.  'People say they see reflections in it.'
    'Well of course they see their reflections in it,' said Mrs Brenton.  'It's stainless steel.'
    'Not their own reflections', said Councillor Todd.  'Just, reflections.  And funnily enough, the buskers aren't keen either.  They say they don't like having it behind them.  They feel it's looking at them.'
    Mrs Brenton peered.  'It hasn't got any eyes.'
    'I know,' said Councillor Todd.
    Giselle Murray had won the competition to design York's Tower.  She just met the criterion of being a local artist, by virtue of being born in the city and occasionally coming from Godalming to visit her granny.  Councillor Todd was on the Tower Committee.  Giselle told them that by reflecting the scenes around it in brilliant stainless steel, it also reflected the fact that a community's strength is its people. The alternatives were a white granite column with a winding frieze of York history, a magnet for graffiti and needing periodic new layers to relate more history; another obelisk, this time of glass with a model of the Minster inside it (the artist said it was unbreakable, the Committee invited him to spend a Saturday night in York during races week); and a statue depicting a train, a box of chocolates and a bolt of lightning.  This was the bolt of lightning of technology, the artist explained, showing how different industries had shaped the city over the years.  It hadn't taken the Committee long to decide that a stainless steel crayon had its merits. 
    Councillor Todd took his sister round the corner to a tea shop in Newgate, the lane beside Shambles Market.  They sat at a table by the window, looking out at people wandering among the stalls and taking pictures of the cobbles.  It was a fresh spring day, a light breeze sending small white clouds scudding across a bright blue sky. 
    After the tea and buns arrived, Mrs Brenton said, 'So, you got to meet the King.'
    Councillor Todd flushed with pleasure.  'I did.'
    'What's he like?'
    'He's the King.  What's he supposed to be like?'
    Mrs Brenton shook her head and spread jam on her scone.  'Her late Majesty would have a fit to see all this nonsense.  Towers of Strength.  Waste of tax-payers' money.'
    Councillor Todd opened his mouth, but before he could either reply or bite into his Yorkshire Fat Rascal, there was a sudden flash in the sky.            
    'What was that?' asked Mrs Brenton.
    'I don't know.' Councillor Todd stared out of the window.  People were running up the lane, there were some screams, shopping bags were ricocheting off the cobbles. 
    Councillor Todd half rose.  People at other tables were craning their necks to see past him.  One of the waitresses went to the door and opened it.  A man's voice shouted through the gap: 'The Crayon!  The bloody Crayon!  It's alive!'
Part 2 is here: https://www.abctales.com/story/airyfairy/tower-strength-ip-part-2-4