Déjà vu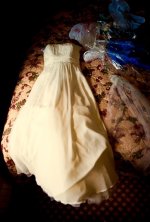 Fri, 06 Mar 2015
Woke up this morning wondering if it was our wedding day, or not. Just yesterday, he seemed distracted; refused to look me in the eye - or search for the rings he'd somehow lost since taking them to the shop to be polished. Wouldn't even speak, except to catapult accusations regarding past, and likely future failures. He'd find the bloody rings when he was good and ready. And me, I had a funny feeling I knew where this was heading.
Home alone, I laid out the dress - (just in case), then went to bed and dreamt of a love less uncertain. Woke up this morning, like I said, wondering... didn't touch the dress, but put on jeans instead, and waited.
He phoned as expected, with a list of lame excuses, and I hung up content to call it a day. But he was back by evening - prostrate with flamboyant guilt, stuttered apologies, silly card with too many kisses in it - flowers. He'd even booked the registry office incase I could be persuaded.
Time will fly, as perhaps should I - but that never happens, for some reason... I will, I'll say, and so will he - for better or for worse - again.