Flanked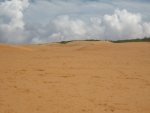 Tue, 01 Mar 2016
1 likes
When needle slickly lanced cool fat,

all that sensed the slide of steel and pulsed

pain was the muscle under the deadened lard

that bulged as an alien birthing on the flank,

beneath my arm.



But I screeched at the pinch of the pierce 

further back; fierce for the stubborn lack 

of numbness in that area. 

And with a slice of blade, I stole away 

to walk along my usual beach;

the sea to my left, and there 

you were, to my right, on watch,



when at the sudden stench of smoldering flesh, 

I turned my head, just as you caught me 

by my heart's sleeve and led me further along 

the dampened sand till at the sudden tug 

of a stitch, we stopped!

I soothed your puzzled face, 

smoothed your brow; your beard; licked your lips 



with little kisses of fingers, cheered 

you never flinched at my touch

or inched away till the dressing was done,

and then you went out with the lights,

and I opened my eyes just in time

to watch you wander off the edge of a dream.