Knitted Knockers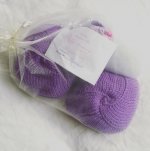 Mon, 08 Feb 2016
1 likes
Knitted knockers UK is a charity that provides (free of charge) hand knitted and crocheted cotton prosthetic breasts for women who have had a mastectomy. I found them on line, and when I requested a pair - my size, in purple, this is the email I received:
  Hi Deborah.
Thank you for your request via our website www.knittedknockersuk.com. Your order has been placed within our knitting group where a volunteer will complete the request and mail it to the address you provided.  

Your knitted knocker(s) will arrive with a small hole in the side that has been threaded closed. This will enable you to adjust the size of the knocker by adding or removing filling, also to remove the filling for washing the outer shell, if you wish to take it out prior to washing. You will also receive a small amount of extra filling and some extra yarn for lacing up the opening. 

Please allow 28 days for your knitted knocker(s) to arrive from your original request. 

Once your knocker(s) have arrived, please let us know. It is also nice too for us to be able to let the volunteer who made your knocker(s) know they arrived safely. We would also appreciate feedback from you, you may do this by responding to this email or use the form on the website. Please put your order number on any communication you send. 

Thank you again

Lynne Hawksworth

A gift from one woman to another
Isn't that so nice? I was really excited about receiving my new knockers, but when they arrived, they were so prettily and lovingly packaged with a beautiful 'just for you' card from my knitter and the sweetest message inside, I was moved to tears by the kindness. The card reads:
Dear Deborah,
Please find enclosed your gift, as requested. I hope it brings you comfort.
I have enclosed some extra 'filling' in case you should require it and some wool for you to sew up your 'knockers', once you have the perfect fit for you. 
You may have to give them a little squidge after being in the post. This will help reshape. 
Best wishes, (name of knitter) x
There is also a mini packet of love hearts and a gift tag which reads:
Knitted Knockers UK
Made with love and
filled with hope
A gift from one woman to another
Love and best wishes 
from (name of knitter) x
It really is the sweetest, kindest thing, and I wanted to share it. It's a non profit making charity, and one I feel is well worth taking a look at if you, or a loved one should ever (hopefully never) find yourself / themselves in need of a breast or two because of a mastectomy. I just love my knitted knockers - they are so soft, cool and comfortable! And the fact that such kindness is out there if we look for it has bowled me over. 
Bee x