Poem For a Flower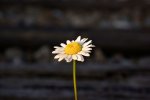 Mon, 14 Sep 2015
I wrote a poem for a flower, forgetting 

refugees; 'the migrants' -

couldn't take it in - but saw the lonely 

wilting in its bed, picked it 

by the tender stem and briefly mourned 

its earthly separation.



Petals drooped so soon and fell - 

a waste to take it out before its time, 

but all the people marching by 

might have crushed it under foot;

trod it down, so me, I took it home 

and pressed it in a book for life.



Our future rests upon us taking care 

of nature, right? It's refugees 

and migrants we can't find a way 

to deal with - understand -



flowers still look pretty, though really 

only dead once pressed - 

that's sad. 



People on the other hand,

oppressed, the old, the young, 

in desperation, persecution, hunger, 

sickness, fear and dying by the way -

no comparison.