Skydancer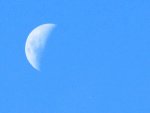 Sun, 04 Oct 2015
Swift me to the paper moon that haunts

the dawn, your hand held tight 

in mine, a promise not to let me fall

back down to earth too soon.



Swirl me in a sky-dance far away 

from cold reality that's nighttime more 

than daylight. An hour with you to swoon

the feathered clouds that thread the air



around my shrouded fears for just a brief 

reprieve is all I need. Then gentle me back 

down to earth afloat in kindly words - calmer 

for sweet moments flying high with you.