We Women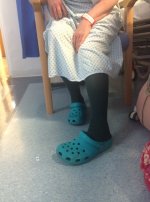 Wed, 27 Jan 2016
We walk out and are

wheeled back in again on trollies.



On proper beds, we already feel sorry

for the new girls on the ward



awaiting their turn

because we know what's coming. 



But morphed off our heads, we soon 

forget the initial pain of suffering -



like having given birth - can only vaguely

recall how bloody awful it was...





Later that day, or the next, or the next,

we walk out of the short-stay place, shocked 



tit-less - we women on a reduction line,

praying it's over with.