Martha's Moved On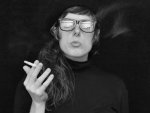 Mon, 17 Mar 2014
4 likes
Bloodshot eye of the answer-phone
Unwinking tells you're home alone
She caught a cab to Marylebone
I think she's gone...
Eating alone feels like death
Should have gone to Little Chef
Lonely four-eyed Findus breath
Martha's moved on
Home to an empty bed and hungry fist
You scratch a little at your wrist
The pain's too much so you desist
Martha's moved on
Here's her paints and vapour rub
Toiletries stacked beside the tub
Daughter of Beelzebub?
No,YOU were in the fucking wrong!
In London Fields
She yields, she yields
To costermongers
With jellied eels
Must you go on?
The day is always in decline
Kneeling at her votive shrine
Objects once so anodyne:
Hairbrush and Neapolitan songs...
You shave your skull at 4am
Pop sleeping pills, a pack of ten,
Crave her furry diadem
It's fair to say she's gone!
In the dark the whispers start
How many fucks? How many farts?
Desire-lines stamped across your heart
Where she treads the grass alone
One black hair left by the bed
When last week you clasped her head
Now you kiss the stains instead
Get along, get along!
In Tottenham Hale
Her snail trail
Sent you clean off the rails
But friends say you're strong
In a café in South Ken
She gobbles dates with Arab men
Who stare and spit out gloops of phlegm
When you ask, 'Is anything wrong?'
You copy-edit her book at night
Dressed up in her sequinned tights
Debauched, hairless catamite
It's very,  VERY wrong.
In the pub black-eyed men
Say 'forget the bitch...' and 'same again'
Bore you stupid at just five to ten!
She's really really gone!
Now she's shafting all your friends
From Rayners Lane to Ponders End
When she comes the texts she sends.
They shouldn't but they turn you on
In Trellick Towers
Golden showers
Pour through the lift
Where you bring flowers
But they die before too long
She called you weak, 'lacking a core,'
Spat her resin like a sycamore
Enslaved you as her Troubadour
Bang fucking on!
You're unlovely and depressed
Overweight and underdressed
You cajole and are caressed
By all her other men
In Wathamstow
She sucks his toes
The contortions she undergoes
From Highgate to Hong Kong
A sweet disorder in your dress
Leads to a pre-dawn arrest
Constabulary are unimpressed
By your blonde wig and leather thong
If she's out there reading this
Grant me one more crystal kiss
To drink her bathwater would be bliss
But I don't think that's on.