The Silver Dawn Caravan Park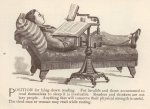 Fri, 20 Apr 2018
The Silver Dawn Caravan Park
I pulled in with low expectations and drove parallel to a little turd-strewn shingle beach. I was tempted by green lawns, the promise of East Coast mysticism. Maybe a dead witch bricked up in one of the static homes.
I met Nigel standing on a hillock. Plastic bags flapping around broken twigs. Like so many short-term visitors he was once on the way to a more permanent home, but he tarried, took time out for a longish look at the three weatherboard shops: tattooists, bakers and off licence and decided he could make a go of it.
'We're all transitional men hiding out or waiting for our moment. Roger, well he was needed to end a twenty-year marriage. She didn't leave her husband for Roger, that was never on the cards. He was needed to move things on. Like Senokot.'   And there was Roger the Pound-shop Lothario in his flip-flops and twiglet legs pecking at a bun with a copy of the Daily Mail on his lap.
'You've probably heard of me? Nigel. Nigel Hendricks. The Suburban Birder and budding naturalist. I was interviewed on a local radio station. Have you got my card?'
I thrust a second one into my jeans pocket.
'I did the walking tours… if you check the wildlife forum, even better I'll give you my email…'
'Thanks.'
'I did the bestselling pocket guide to British mammals. It was very well received. Very well indeed. There was this one entry. The Edwardian Hunting Vole. For the life of me I couldn't find an image of it anywhere.  I searched and searched, the deadline was approaching.  Well, I studied zoology and I knew that the Edwardian Hunting vole is almost identical to the European vole. Almost. Except the Hunting Vole has a russet patch on its chest and matching epaulettes. I substituted a picture of the European vole—they are not dissimilar…'
Nigel's nose was trembling, and his eyes widened…
'I substituted the vole for its less glamorous cousin and photoshopped the coloured patches. You do understand what that means?'
I nodded.
'I can't go back.  There might still be the most tremendous hoo-hah.  I can wait it out. We have everything here and the Lodge style caravan is really very comfortable.'
I took my keys from reception. It was in-betweens for me too, but I was a lot more buoyant with those keys in my pocket.