The Pregnant Waitress (part 1 of 2)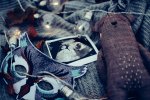 Mon, 14 Nov 2022
2 likes
Marnie sat on her bed, scrolling, liking, waiting for the phone timer to chime, when the message pinged in, and tipped her into a dark hysterical dudgeon, a deep, mossy well of despair, no handholds, no fingergrips, a depth from which it was impossible she would ever return.
I dnt think u put enough into me & u babe, said Sonya's message. The sign-off was a wilting tulip and a cracked, shiny heart. Another ping added a photo of a chimpanzee delicately kissing a leopard cub, which did nothing to soften the blow.
Marnie searched up and pinged back a video of a huskie pacing a kitchen floor dressed as a panda. She brooded over whether to add a caption that conveyed be nice, and at the same time I'm not trying to offend you by asking you to be nice. It wasn't clear if dog as panda was sufficient, but also wasn't clear it was not. Another message from Sonya appeared before she could send.
Just I work all day? and I'm tired but where's the trying to come see me?
hey. Marnie added three fat red lips and a cross-eyed smiley. dnt b mad.
She tapped Sonya's icon for an actual speech call, to show how deadly serious this was.
'The school thing, I needed to deal with that. Now it's done and I'm just working out how to get out of here.' The panic was lifting. Now she just needed a single word from her lover, a syllable, to hold to, to wrap her arms around.
'Woah, right, sure, got it.' Sonya's voice always surprised her: husky, worldly. Yet swinging hammer blows. An underground hammer spirit crushed by the everyday world. A spirit begging for the chance to be awakened.
'You don't need to know all that, I know,' said Marnie. 'But soon we can be together.' The countdown chimed, indicating that it was time to wash out her hair dye.
'You can say it, you do say it, all the time,' said Sonya. 'But where are you? I mean if I could I'd make the journey to be with you like a shot. But some of us have to work.'
'I have to wash out hair dye,' said Marnie. 'Right now I just have to do that. I love you.'
'I mean I'm the one earning money, paying my way,' said Sonya.
The week before Marnie had inscribed a journal entry, We argue, intensity makes us argue, this is the compromise we make for love. Each word written in a different numbered notebook to maintain secrecy. We I I We We Never I Bursting We, read the first page of notebook 1.
'I'm going to earn,' said Marnie. 'Once I've saved some money nothing will stop us being together. We'll get a flat, then we'll both be working.'
'Maybe I don't want to work,' said Sonya. 'Maybe I don't want to be a waitress all my life.'
'You'll find a different job. I'll help you.'
'We can't all just switch jobs, you know. That's so easy for you to say, for rich English types.'
'I'm not rich.'
'I don't know why I said that. I'm an arsehole. Shoot me.'
'My dad wouldn't even let us be rich.'
'Kiss me,' said Sonya.
Marnie put her lips to the screen.
'Don't call me,' said Sonya. 'Don't call me again tonight. I need to soak out the stresses of the day. I have blisters.'
*
The next morning Marnie waited until nine-thirty in the wooden hut by the duck pond, as she did every weekday, when she could be sure her parents had left the house for work. The pond was still semi-frozen, the shopping trolleys and rubbish bins held in place and used by the ducks as turning buoys in their endless lake runs. She changed from her blazer and tie into an orange hoodie.
Outside the hut a girl about her age threw stones into the pond. Marnie recognised her vaguely, from some after-school drama class she had attended for a few weeks, before the workshop leader had started talking about 'centring yourself' and she stopped attending.
'Hey,' said Marnie.
The girl looked up and then back at the pond.
'You know ducks can get actually get agitated,' said Marnie. 'Even if your stones don't actually get that near them. Like soldiers. A kind of animal PTSD.'
'I know that.' The girl threw one more stone and then stopped. 'Have you been sent meditating as well?'
'No,' said Marnie, as though that was the last thing she'd be doing. Meditating sounded quite appealing.
'This is me on a walking meditation. I'm home-schooled,' said the girl, defiantly.
'Right,' said Marnie.
'Except I've finished. And anyway I couldn't see where I was walking with my eyes closed. Are you home-schooled too?'
'Sure,' said Marnie. 'Kind of.'
This was in fact true, at least according to the local education authority's records. Two months earlier Marnie had written a letter to school from her parents, laying out their plans for withdrawing her from the formal education system and home-schooling for the foreseeable future. She intercepted all replies, signed a letter to the local authority informing them the family were moving out of the area, and once she had completed the paperwork never went to school again.
'What are you learning?' The girl's expression implied the word learning reminded her of something terrible. 'I've got to take pictures of five plants and look up what they are when I get home. At least if I want to study plants at university. Maybe we could learn together? I'm Cassia. What are you learning?'
'Mainly Romanian and New York hip hop moves,' said Marnie. 'I'm teaching myself from YouTube.' By way of example she stretch-stepped across the broken tarmac.
'Cool,' said the girl. 'Can I come learn with you?'
'I'm not learning for university. University degrees only lead to the kinds of job that are like school, but worse.' This was the only line Marnie could remember from her dad's essay entitled The Tyranny of Careers that he insisted she read the year before. 'Right now I'm focusing on baking. I've set up a baking business.'
This was partly true. Marnie spent school-time hours baking at home whilst her parents were at work, until clearing up the evidence became too tiresome. She had sold two chocolate brownie cakes to a local cafe for five pounds each.
'I'm doing business and finance this afternoon,' said Cassia. 'But maybe I could do baking as an extra-curricular.'
'I usually like doing it on my own,' said Marnie.
They stood there for a while without speaking. Marnie sat down cross-legged on the tarmac path, and after a few moments Cassia joined her.
'How about I come to your house instead?' said Marnie.
'We can't,' said Cassia. 'Not until I've taken these plant photos. And mum says meditation is supposed to take at least an hour.'
'We can help with the photos and then we'll go,' said Marnie. 'Though I do have to phone my girlfriend. She's on a break from work at 10.15. We've only got ten minutes.'
'We can fit that in,' said Cassia.
'This is Sonya, actually.' Marnie turned her phone to show Cassia.
'Sonya's your girlfriend?' Cassia made an examination of the leaf in her hand, something that needed doing before looking at the phone.
'Yup,' said Marnie.
'What's that on her head?' said Cassia.
'Sonya won't wear anything with natural fibres,' said Marnie. 'She doesn't believe in using plants for our own human ends.'
'Doesn't a rabbit count as natural fibres?'
'It's not a real rabbit. That's just one of Sonya's eccentricities. I'm trying to help her.'
'To be eccentric?'
'To live somewhere where she's appreciated. I'm saving some money, to help her leave home. Out from under the oppression of her mother.' Sonya had frequently impressed upon Marnie the oppression she suffered from her mother, though she never liked to go into details. 'We're going to live together.'
'My mum could help her,' said Cassia. 'My mum helps everyone. She's particularly into helping the oppressed.'
'She'd help Sonya?'
'We can ask her, for sure.' Cassia stood up.
'You can't tell her Sonya's my girlfriend,' said Marnie.
'My mum'll be cool with that. In fact if you say that she'll definitely let us study together.'
'You can't tell her, anyway.'
*
only hv 5 mins, said Sonya. mr fckin bossman sys I hv to go tidy the trays again. I alredy did them once. why my fault if customers dnt tidy up.
jst hv to tell u,' said Marnie. hv a friend who cn help.
wth trays?
wth money. my friend Cassia. going to loan money from her mum
u never tld me about friend.
she's going to help us wth money. her mum.
how much?
hvnt sorted details yet
enough to get to england?
how mch flights dublin to london? Marnie felt a stab of anxiety, knowing this was a detail for which she ought to have done prior research. Sonya let it go. so u cn come? add my money to money u saved, u rent a flat nearby, I cn live there 2. ill get job help wth rent.
slow up tiger. said I cld maybe come to england. But when I'm there not like I want to waste all my money on rent. ur parents can give me a room? do me good deal.
we dnt have spare room
stay in your room. hv to give me that cheaper?
makes sense, said Marnie. but not sure, she added quickly. Then, my parents not that cool. abt us
thought your dad ws sjw. mummy and daddy hv problem with lesbians?
This was the first time either of them had used the word lesbian. Sonya's Instagram profile said, Love is a magic between two people, don't try and explain it, fucksters. gay, irish, proud of it. Marnie was happy with gay, not so much with lesbian. Gay would have been good when she was still going to school, gay the best excuse to rebuff Darren Avery's angry poetry. Could she be gay but not lesbian? Must ask Sonya, Sonya would know. Don't ask Sonya.
bsides dnt really have any money right now,' said Sonya. how i spposed to sve money waitressing? old biddies dnt leave tips,' sighed Sonya. whole conversation stressing me out, lots. when cn u snd money?
*
'So do you know, Marnie – do you think your friend might be shackled?' Cassia's mum started speaking whilst still in the garden, her voice carrying through the open back door, and her sentence ending as she sat at the wooden kitchen table opposite Marnie.
Through the kitchen window Marnie saw baskets hanging along the line of the fence. One basket hung loose on a single chain, brought low by the weight of an odd-shaped orange vegetable.
'How rude of me.' Cassia's mum held out a hand, and some of the mud transferred to Marnie as she shook. 'How are you?'
'I didn't say shackled,' said Cassia.
'Thanks, um, good,' said Marnie.
'You can call me Arial,' said Cassia's mum.
'Like the font,' said Cassia.
'Please don't say it like that, darling,' laughed Arial, visibly annoyed. 'We talked about this, didn't we?' She turned back to Marnie. 'So Cassia tells me your friend is held against her will?'
'My mum knows a lot about escaping,' said Cassia. 'She used to live with the Zapatistas.'
'Sonya's parents are Catholic,' said Marnie. 'They don't understand her life choices.'
'And so they won't let her leave Ireland,' said Cassia. 'There's the Troubles in Ireland, of course. That doesn't help.'
'We haven't yet covered the Troubles in history,' Arial confided to Marnie, as though she were a fellow teacher. 'So how soon does your friend need to leave the country?'
Arial placed a cup of tea in front of Marnie, a metal chain snaking out and around the handle.
'She's just trying to get to England,' said Marnie.
'So she's in danger?' Arial clasped her hands together.
'Maybe. She's my cousin,' Marnie looked at Cassia. 'My cousin Sonya.'
'Son-ya,' breathed Cassia.
'And how far gone is she?' said Arial. 'She hasn't tried to do anything herself, has she? We can speak to her right now if she needs the emotional support. You can call her and I'll take it from there. I can disguise my voice if needs be. I can put on a bit of the Gaelic twang.' She laid a hand on Marnie's arm.
'Gone?' said Marnie.
'Or whatever you young people say for it now. Chubby-bunny. Got a belly-buddy.'
'Sonya's pregnant?' said Cassia. 'You never said.'
'Not everyone likes to say, darling.'
'But I thought you were gay,' Cassia frowned at Marnie.
'What's that got to do with it?' said Marnie.
'We all know gay people can get pregnant, don't we darling?' said Arial. 'Don't let me down here.'
'She's bi,' said Marnie.
'That's bisexual,' said Arial.
'I know,' said Cassia.
'So what's the plan?' said Arial. 'I don't want to tread on any toes here if you've already got a strategy in place.'
'I've been looking at flights,' said Marnie.
'I think we may require a little more subterfuge here.' Arial clasped her hands together in front of her. 'I'm more than happy to offer up my van as a getaway vehicle. Book the appointment at the clinic here beforehand, and have the whole rigmarole sorted in forty-eight hours.'
'Maybe this is all a bit quick,' said Marnie.
'Well, it needs to be quick!' laughed Arial. 'How many weeks do you think she is?'
'Eight,' said Marnie.
'Perfect. We'll take the van Pembroke to Rosslare and drive up to Dublin. They're less likely to search for us on that route on the way back. Does Sonya have a passport, or have they confiscated that from her?'
'Not sure,' said Marnie. 'Maybe I should find out first?'
'Doesn't matter. If she doesn't, we'll take extra bedding and use the priest hole. What about after care?'
'I should be getting home,' said Marnie.
'Your parents will look after her, after the termination? I mean we should really ask if your parents want to come with us, I suppose.'
'My parents can't know about this,' said Marnie. 'You can't tell my parents.'
'But Cassia told me your dad heats all his own water?'
'They're Catholic. They were both brought up Catholic. I have to go. They're not Catholic anymore, though. And they won't talk about it. They refuse to talk about it. They don't talk to anyone.'
'Religion stays in your bones,' said Arial. 'I had a boyfriend once who refused to go down on me for similar reasons. Oh, come on, darling,' she said off Cassia's expression. 'I'm not talking about your father. Well, there's no reason to involve your parents,' Arial lay a hand on Marnie's arm. 'There's plenty of room for Sonya to stay here, if she's happy to. I'll get on to researching ferry times.'
'Thanks.' Marnie felt her eyes filling with tears, though she was not certain they were tears of gratitude.
'If you like,' said Arial, 'you're welcome to stay for lunch. And this afternoon we're doing personal finance. I've ordered more credit cards to cut up.'
*
u told ur parents that ur lesbian gf was pregnant? messaged Sonya.
not exactly
should think not exactly
a friend Arial, like the font, is gonna drive from England 2 Ireland & bring u back. I've arranged it all. She sed u cn stay with her.
really? The word took a while to appear.
totally... only thing is u hv 2 pretend ur pregnant. ur pregnant & ur coming 2 England for an abortion... all part of plan
'I would never have an abortion. Abortion is murder,' Sonya's voice made her jump – she had forgotten they were also on a voice call. 'Everyone knows that.'
'You only have to pretend,' said Marnie.
'I can live with this Arial?'
'Yes. It's almost for sure.' Marnie pictured Sonya walking round Arial's house crying fake tears over her abortion, Sonya criticising Arial for her lack of sympathy, Sonya screaming at Cassia that she has no idea what this is like, for her, Sonya making Arial and Cassia go to church, Catholic church, forcing them, together, into a confession booth and to admit their abortion guilt to the priest, the priest ordering Sonya out of the church in front of a full congregation. Though they wouldn't do confession with a congregation there, would they?
'... don't eat fish,' said Sonya.
'It'll only be for a few days. Just until you find a job and we get a place of our own.'
'I don't want to find another job. I can't stand waitressing any longer.'
'What about something else?'
'I don't want to talk about work anymore.'
'So maybe we can come next week? Can you be ready?' said Marnie.
'I think you should just send me the money,' said Sonya. 'I mean I don't want any girl of mine getting mixed up with a woman who thinks it's okay murdering babies. Do you think murdering babies is okay?'
'No,' said Marnie.
---
Photo by Daiga Ellaby on Unsplash