Licked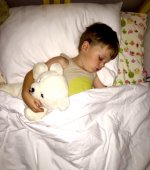 Thu, 25 Feb 2016
I caught the steel at the blade of her smile,

and plunged through the hall of imagined safety -

a yank of covers for my eyes. Ears still fizzing

at the hiss of a seethe - Back to bed! Her urgent, Gin fumed

order obeyed, I escaped parental wrath on wings of a breath 

that raised me up above the ensuing din.



Later, it was him that slunk into my darkness - afraid I'd heard. 

I feigned an angel dreaming, exhaled some demons, then slept

for what seemed a minute, and woke to a disconcerting 

resumption of normality; Her in the clatter of our kitchen, 

where I felt sure she belonged, administering



tenderness; dabbing Dad's head with kindness; wetting his grazes 

with dishwater from a bleached sponge; dotting the blotches 

of his green and purpling mask of shame, while squirming guilty,

I in the corner, watched him wince the once or twice 

as her fingers poked and licked the split just below his eye; his lip

cracked in apologetic cringes. Embarrassed, pathetic, livid. 

Terrified, 



I wondered if this would be the time

to mention about my bed - needing

fresh sheets -

again,

or should I keep quiet?