The Memory Collector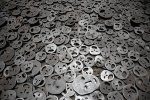 Fri, 07 Aug 2015
We never believed you'd knock at our door;

your grim expression begging 

no questions - she could remember to ask - 

nor after you'd taken her small frozen hand 

in your gnarled oak grip and pinched as you pulled

her towards you, did you notice her wince, the once.



You coldly prized open her mouth and sucked out

her final remarks; gladly swallowed the sense of them,

and when you expelled your sour breath 

back into her lungs, with cunning, you liquidized

brain into mush, and for the fun of it, confused the connections

until there was no recollection of brilliance 



once shone through those lack-luster windows

of hers. All awash, we witnessed the start of the leaving 

that day - kind of accepted the knock - 

but funnily enough,

ignoring the signs of your quiet approach,

we never expected you.