Fifty Shades of Shade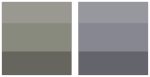 Wed, 02 Oct 2019
Hardly a colour at all
some say it isn't even one.
I'd agree with that.
Surrounded by it, I don't see
the attraction of the favourite
homes-under-hammer bland.
A blank page where you can
use your imagination they say.
It's just a cheap trick and
shabby chic is just shabby.
Cars the shade of storm clouds
clutter streets and kerbsides
portending to silver sophistication.
Didn't anybody tell Audi it means
deception? Well I guess they know
what that means.
The natural colour of bad weather;
few animals on land choose it
when warm golden browns
melanged with jet black and
purest white provide protection
and a chance to live a day longer.
Nope: there's nothing sexy about grey.