Lyric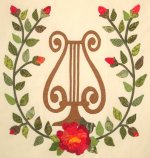 Thu, 27 Nov 2014
An old labourer
Entered by Dionysus,
His sap rising,
Plucked his strings
And sang.
His clothes were shabby and his hair unkempt
His voice sometimes faltering
And his strings lacking melody,
Yet opening himself to the spirits dance
He gave freely.
He told me of his life.
A farm boy who moved to Athens,
Rising before dawn
To build the pillared temples and theatres
With manly sweat.
Watching the dramas
Of Gods and Heroes.
Now, home again
He played at our winter hearth,
And hearing him in the firelight
Singing of his special love,
We followed and felt
His rises and sways of mood and mode
And cheered him.
(the poem is loosely based on someone I know, there's a timeless feel to the man and his music so I shifted him back a few millennia)