Davy Jones's Locker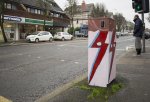 Thu, 29 Mar 2018
It's mine, actually.
Full of keepsake songs,
memories all the way
from then 'til now
of all the ch-ch-changes,
every truly hunky dory thing
that happened from
puberty to near-dotage.
There's a Ziggy-shaped space
an oddity, surrounded by
five-years' worth
of moonage daydreams
and a camouflage jacket
with the Argentinian Doctor's
beret-d and bearded face
and a cheap tin badge
marked Buddy.
The murdered,murderous,
insane piano solo.
The screams and bawls
of the Jean-trapped Genie.
The smooth dash at Fame
and white soul boy
imagery stolen by
a Sheffield boy easy
as ABC.
I went station-to-station,
my flirtation with uniform
longer than his
but we both had
decadent Berlin
days, where I was
always crashing
in the same car
too.
I was still there
when he said we should
dance, and put out
fires in an impractical
fashion.
He played in
a stannic named band
while I was reading
Gunter Grass
and it was music
for tin ears.
The newer memories.
are fainter.
You might be surprised
at that.
But there are
aural jewels
in the mud,
I'm afraid of
Americans too.