The King of Italy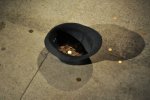 Fri, 20 Jul 2018
In ragged, twine-belted trousers
- and a velveteen waistcoat -
he has the air of a man
who chooses mismatched shoes.
He doesn't look at the trilby
on the cracked pavement,
just down his nose at passers-by
as they toss him their centesimi.
When the Carabinieri come -
like an officer in mufti,
he serves them a nod
as they pass by in review.
Most days he has a delivery box
containing the queen of pizzas:
with his very own Margherita,
he's the King of Italy.