The Man on the Other End of the Phone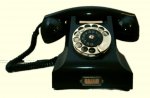 Tue, 07 Feb 2017
1 likes
He says hello and my name,
as if trying either out
for the very first time.
My accent becomes his,
maybe there was a school-friend
or drinking pal whose name I bear.
So I reflect his tones and argot
from north of the border
or West of the Pecos
from when he used to read
to me from Zane Grey,
when death came from a six-gun
or a feathered shaft.
Not this slow, creeping un-death.
I make him laugh, God knows how,
or why I laugh with him.
We talk about Rangers
and I picture Souness,
while he can see Slim Jim
or maybe Willie Waddell.
But he loses the thread, laughs again:
so I talk about Clyde puffers
and what the Air Force
was like long before
I followed him in,
like all good sons attempting
just a tiny connection...
through this dark and heavy curtain.