Outside In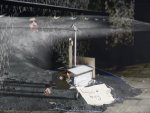 Thu, 03 Jan 2019
1 likes
On the dark side of the moon
a Chinese robot trundles
like the gimmick-gadgets
to vacuum penthouses
and mow the kept-up-with Jones's lawn.
On the dark side of this town
a broken gutter-sleeper
mouths the homeless hymnal
to busy customers
and waits for unforthcoming alms.
"If it costs a pound
or it costs a penny,
the money doesn't matter,
if you haven't got any."
Red-corduroyed legs scissor past
in pursuit of nylon-smoothed limbs
whilst blue-toothed ears listen to
something made by Huawei,
like the hoover on the moon.