Pebble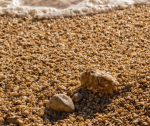 Wed, 05 May 2021
I kept a lucky pebble,
I found beside the sea,
I took it from a rock pool,
and saved it just for me.
I kept it clean and polished,
it never failed to shine,
I kept it in my pocket,
the one thing that was mine.
As you were someone special,
I handed it to you,
for as you said you loved it,
I thought you'd love me too.
I'm sure you lost it long ago,
just like your love for me,
I wonder if my pebble,
now lies beside the sea.