The Picture Ranch 7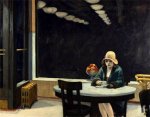 Tue, 26 Jul 2016
Yet another twist came over to our table. Another red-head. She looked better in pants than Helmet-hair did. I got the feeling I wasn't a convincing three-letter-man.
'We haven't seen you here before.'
'We're from outta town,' I said.
'Actually we're new in town,' Miss G butted in. 'I was looking for a place to socialise and I couldn't come alone. This is my brother. He'll be no trouble.'
She patted my arm.
'Yeah, well. It's quite safe to come here on your own.'
Red gave a grin like I'd been given a time or two, but not outside a Shanghai cat-house. Miss G didn't blush, but smiled back.
The red-head continued,
'Sure, that's fine. I'm Lupe Cantarillo. If you want anything… well, there's a bell on the table...'
I tried not to look at her keister, but she was wearing those pants, what could I do?
'I think you as my brother is more likely than… you know.'
'She the manageress? I'd like a chance to talk… can't see it, somehow.'
'What do you want to know? You could go to the rest room. I could...'
'You could what? Ask for her number?'
There was colour in her cheeks again and I saw her clench her fists in her lap.
'Aw, c'mon, sister, tell ya what. You find out if she knows a character name of Boethius
and I'll stare at the rest room walls for the rest of the night.'
I stood up,
'See if you can get me a beer in this dump. I'll be back in ten.'
By the time I closed the rest room door I had a headache. Someone had been smoking up a storm in the biggest tea party since Boston. Whoever owned the club didn't give a hoot about a police raid any time soon. When I got back to the table there was a beer in front of my seat, Lupe Cantarillo was just leaving and Miss G was putting something in her purse. Her eye-glasses came out and she put them on. I nodded at Lupe C's rear view.
'Was it something I said?'
'She's going backstage to check the singer is ready. Can we stay for the show?'
'Sure.'
I took a sip of beer. The lights went down and the woman from the match-book cover was in the spotlight. They should have used a photograph, for she was twice as beautiful as in the painted image in my pocket.
'Ladies and Gentlemen, we hope you enjoy the show tonight. My name is Lydia Vorobieff and these fine musicians are the Cuernavaca Court Orchestra. Maestro...'
The band started more or less on the same beat. No matter how bad they were, it would have made no difference. Lydia was a star, or should have been, somewhere. She sang "Goodnight, Moon" like it would never appear over the Hollywood Hills again. She sang the kind of songs that made me reach for the dial on the radio, but I never heard anyone sing them like she did that night. By the time she finished her half-hour set with a slow version of "Ten Cents A Dance" the floor was full of people hardly moving and with tears in their eyes. Miss G was dabbing at her eyes with a handkerchief.
We must have been the most interesting thing to happen in weeks, because Lupe brought the singer over to our table to say hello.
'Lydia, this is our newest member; Eleanor. Like Roosevelt.'
Now that the singer was off-stage I could see she was about of an age with Miss G. Lydia opened her mouth to speak, but I saw a tiny shake of Eleanor Grafenburg's head and Lydia just said,
'I'm delighted to meet you.'
Their handshake looked like two seals' flippers touching.
'Enchanted, I'm sure.'
Then Miss G announced that we'd be going and that she'd be back. No-one spoke to me at all, not even Helmet-hair who tried to hit me with the door slam as we left.
I sat in the driver's seat and waited. Miss G took the hint and proved she could open a car door on her own. The motor started first time. I let her stew a while.
'You want dinner?'
'On expenses?'
'I ain't so cheap, I'll buy.'
'I don't mind. You may do as you please.'
'I thought we might talk about what you got out of Miss Cantarillo.'
'Not much to tell, I could repeat every word by the time you parked in front of a diner.'
'So, what? He owns the place?'
'He's a member. Lupe has never met the owners.'
'Owners?'
I applied the parking brake opposite one of the last Automats on the West Coast. All the old places had changed the signs to read 'Diner', though the leatherette seats and smell of coffee and waffles stayed the same.
'You didn't finish telling me.'
'The Red Menace is owned…'
'Let's wait 'til we get inside, I need food. You can watch me eat.'
Eleanor Grafenburg settled for a clubhouse sandwich with no pickle and an iced tea. I thought the waitress was going to choke when she took the order. I ordered a steak with hash browns and the all-you-can-drink coffee.
'Who owns the Red Menace?'
'A holding company, no less. I could find out who if I saw the Menace's files.'
'Maybe later, what's the skinny with you and the Torch Singer?'
'I don't know what you mean.'
She took a drink of her iced tea and made a face, which didn't make her any less attractive.
'Tell it to Sweeney, Eleanor.'
'Guess, if you're so clever.'
'Girlfriend? I don't think so. Who could it be? About the same age...'
'She's Olivia Bartleby. She used to be my friend. In the orphanage.'
Her face crumpled, I gave her my pocket square.
'Used to be?'
'I can't talk about it.'
The waitress came over. Her accent put her roots in the dust-bowl and the lines on her face showed that dealing off the arm was just as hard on a body as running an Okie farm.
'Gotta give ya the check. My shift finishes in one minute.'
I gave her a dollar, and a quarter extra for the tip. The woman sighed and stretched her arms,
'Gee, thanks. That and a millionaire son-in-law'll get me a yacht.'
We finished eating, or I did, in silence. Miss G's clubhouse sandwich looked like it had been pecked at by a very small bird.
It was after nine. I offered to drive back to the mo-tel. She shook her head.
'No, take me to a bar for three martinis.'
'I'll take you there for one.'
She almost smiled and that was good enough.