The Picture Ranch 8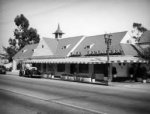 Fri, 29 Jul 2016
I headed out to 8610 Sunset Bvd. The Troc. There was the velvet rope to negotiate, but I wasn't too worried about that. We parked the Buick half a block down and walked back along the edge of Sunset Plaza. There was a big guy on the rope. His tuxedo looked painted on. His smile wasn't.
'Hey, Fisher! Long time.' My hand was crushed in his ape's paw.
'Easy, Moose. That's my shooting hand.'
Moose's eyes crossed a little, 'You packin'? I can hold your rod, but you cain't take it in, Fisher.'
'Naw, Moose. I ain't. Jus' want to show a girl a good time.'
I gestured at Miss G, who nodded at the Café Trocadero's muscle for the night.
'Aw, hey. Pleased ta meetcha.'
Moose held out his hand for Miss G to shake. He held her hand like it was a butterfly.
'Busy tonight?' He finally let go her hand.
''S Thursday ain't it. Only the dipsos and the Lavender Boys in tonight. Mr Wilkerson sure looks worried.'
'So we okay to go in?'
He gave a salute and I said 'Semper Fi.'
Moose's 'Ooo-raahh!' shook the chandeliers inside.
A hostess showed Miss G and I to a booth with a good view of the rest-rooms and within sniffing distance of the kitchen. Moose had been right. There were few faces in the bar. Billy Haines was with Jimmy Shields, but he was checking out every guy that walked in. If a hundred Ku Kluxers couldn't cure a man's roving eye I guessed nothing ever would.
A waitress came over. That's how you know you're in a classy joint. You get a hostess and a waitress. It does take longer to get a drink though.
'What'll it be?'
'It'll be none too soon when it gets here. We'd like two Martinis, the lady will take hers with an olive and a twist, she ain't had enough to eat tonight.'
'Funny guy, you should be in the movies.'
If I had been she wouldn't have spoken to me like that. I wondered if she still believed David O. was going to walk in and ask her to star in the movie of the year.
The drinks came. I ordered two more. The feeling I'd had about how long Miss Grafenburg's first would last was justified.
'That better? You don't like the taste or something?'
'First drink in a long time.'
Miss Grafenburg continued to surprise.
'I was a little wild after we left the orphanage.'
'We?'
'I should imagine a clever fellow like you will have guessed that I left the orphanage in the company of Olivia Bartleby.'
'18 and out?'
'Actually no, we were encouraged to leave, although we were only 17 at the time.'
Miss G's second Martini got the same treatment as the first, so I ordered a pitcher. The waitress nodded, still disappointed at the poor pickings in the Troc.
'"Encouraged to leave?" Miss G you are speaking to a veteran marine. You were canned and shown the road out of town, weren't you.'
'That's a colourful way to put it, but yes, I suppose so.'
'So what happened? You fell out.'
'Fell out of love. I didn't like the fruit so much when it was no longer forbidden. Olivia became an avid fruitarian. I haven't seen her since I got my own rooms on the other side of town.'
'You don't beat about the bush, Miss Grafenburg.'
She poured herself a third Martini from the pitcher,
'No, not any more.'
Five men bustled in. Behind them I could see Moose's face look even more perplexed than usual. Two bosses and three muscle. They made straight for the long bar, where Wilkerson was the only customer, Shields having persuaded Billy Haines into a booth. Wilkerson stood up. There was hand shaking and backslapping between the bosses and the owner. The muscle made like the three- headed dog at the gates of Hades. Moose whispered in my ear,
'Know who that is?'
I did, but I let him tell me.
'It's Bugsy, Bugsy Siegel. Wit' Mr Wilkerson.'
'So the other guy is Mickey Cohen.'
But Moose had stomped back to the velvet rope.
Miss Grafenburg enunciated carefully as only the very drunk can,
'You know them? Personally?'
'No, by reputation.'
'And my don't they each have an interesting one?'
'What would you know about it?'
She stifled a burp. 'The best stories at the LA Times ended up on the spike, not on the front page.'
'So what do you know?"
'Mr Siegel runs the numbers game. Mr Cohen is from Chicago, but he'll move west soon.'
She hiccoughed and her eyes crossed a little behind her eye-glasses.
'What are they doing here?
'I pre-pre-presume they are making him an offer.'
'For the Troc? What if he refuses?'
'He won't. "Every man..." and all that jazz.'
Over at the bar, there were handshakes. Then Mr Siegel and pals left as tight as a marine platoon. What clientele there was kept out of their way. Wilkerson was shaking his head. Miss G's head was nodding. I paid the check and helped her out of the Troc and then carried her all the way to the car. The neon and street-lights smeared the night like it was some movie shot by an amateur. My passenger didn't wake up until I pulled into the motor court out in El Monte.
It was around half-ten. The old guy had kept his word and shut down the desk. Suite 6 was more or less as the owner had described it only smaller. I laid Miss G on the frilly counterpane. The sofa in the lounge-kitchenette had a leg missing and a spring on view so I went to sleep in the bathtub.
Miss G woke up with a hangover and I woke up with a back like Quasimodo's. We took breakfast in a tiny room off the lobby. It was good, even though my breakfast companion kept it down for no more than a minute. I carried our bags over to the trunk. Miss Grafenburg had finally got the hang of opening a car door. I shut the trunk without putting the luggage in it. I wished I'd phoned Schultz from LA. There was no room for our bags. Not with five Chicago-typewriters and more magazines than a down-town beauty parlour in the trunk already.