Struthio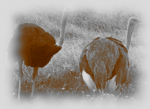 Sun, 08 Aug 2021
1 likes
Our quondam cousins listen,
ear to dusty earth,
awaiting sounds of dingo or humans.
They look foolish.
We follow the clouds
through the outback,
chasing rain for unslaked thirst.
We look upward.
Imagine: interlopers in your land,
running wild, unsuited
to the world and the way.
We look behind.
Dingoes or eagles, we prevail.
None shall overcome us,
save the featherless two-legs.
They look harmless.
Footnote: 
Not the name of a minor Shakespearean character, but the genus Linnaeus first applied to ostriches, which once upon a time was applied to the Emu - and later wasn't. Escaped common ostriches in Australia have established feral populations. I expect you'll work out who "we" and "they" are.