There Is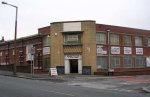 Thu, 01 Mar 2018
There is hope in the midden,
a spark in the ashes
a light in the shadows
There is.
Riches are not the clink of joke-shop coins
or gem-stone silicates and ancient coals
or a second home in Ceredyggion
or a taxi for every journey.
There is life in the tower,
love among the others,
time to change slumland.
Poverty is not the lack of quinoa in larders
but the absence of fathers and wages,
or the grit of mothers with two jobs,
or a bus-ride to a street corner.
There is poor and there is hopeless,
a chance in a million,
not one chance in a hundred.
Injustice is not in the tabloid's cartoon venom,
or the detached concern of Islington,
or a union Rumpelstiltskin's faux rage
or a dozen prurient TV documentaries.
There is injustice in schools bought
by fees or moving house,
in I'm-Alright-Jack generations
of postcode lottery winners.
There is hope in the midden.
There is?