Wheatfields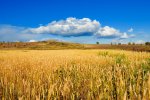 Thu, 08 Jun 2017
Here it is;
the last council housing
in our town,
behind where the factory
used to be,
on the way
to the superstore
and piecemeal units
on the trading estate.
Fields?
There is no wheat,
nothing but bitterness
grows in this ground,
on the way to
union-I'm-alright-jack-dom
I remember wheat,
fields of wheat,
before the telegraph poles,
before the high tension
between need and want.
I remember this,
or do I?
I remember cold trips to
outside loos,
and the time Slow Jenny went missing.
It was in the local paper
for a week
but never made the light programme,
though she didn't come back
I remember them,
Polish heroes who stayed
and married girls
enchanted by the exotic
tales of Cracow
in the winter.
Like me.
I remember this
town as bigger
with fewer people,
my house is my world, now.
How did that happen?
Where did all the room go?
I remember not
being afraid.
Wars were further away
on the radio,
now I watch them
in the corner,
between the lies
of politicians
and advertisers.
Sometimes I think
we have all
trampled the wheat.