Dare To Forget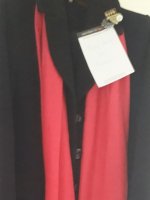 Wed, 10 Apr 2019
Dare To Forget
Icons, images, reminders and memory joggers; they all do their thing and a black coat belonging to my wife has in the last few days become the embodiment of all those things and more.
Dare I forget to take the coat when I depart for my mother-in-law's funeral?  The obvious reply is "NO! " The logistics of a funeral and affairs to settle over a hundred miles away are complex, but at least it has kept my dear wife busy and she has needed to be so, with so many reminders around her in her mother's home.
Me?  I've got a coat and it menaces me as I pass.  It has no eyes, but still manages to growl threateningly at me as I pass it and it has been put in such a place as to make it impossible to ignore.
It has a role on funeral day; to wrap the host within and hold the memories in. As I look at it now I imagine it caressing a tear and hugging her with thoughts that will stay inside; thoughts that belong to my wife and thoughts I can never share, but I understand.
The coat has waited patiently for it's day and is hanging still.  A bold white note flashes a command that WILL be obeyed.  I almost imagine it to have the power to drive the car down if I forgot to go, which I won't.
I meant to write this as a piece of humour and that will come for me later.   I have spent forty years in training and I don't think I'll ever pass out as a fully qualified husband.  Yet as I move around my own home I bump into tthe constant reminders of commands of frustrated repetition as my spouse tries to sort me out.
A dear friend at work was moved to tell me "after seven years my darling husband has finally cottoned on to how the wash basket works!" and I am no different.  I can hear the multiplicity of instructions and commands without my wife needing to be anywhere near.
I may forget to dress, clean my teeth, whatever, but one thing is sure…If I Dare To Forget..