I'll Be Your Romeo...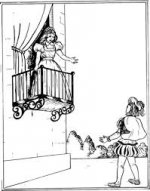 Sun, 19 May 2019
I'll Be Your Romeo if…
'I'll be your Romeo if you'll be my Juliet…'
Soft whispered words of shy love
On gossamer breaths are borne
Eager advances uncertain of an end
Warm received by his hopeful Juliet
'Oh! Romeo, your gentle smile out does the sun
Let's journey together until our lives are done.'
Manacled fingers blend as one
A troth is sworn by lovers so entwined
And thus begins a fairy-tale love all divine
'What happened to my Juliet?
When faded my fair bloom?'
Moaning at her corset
As it tries in vain
To hold the tide of aging flesh.
'My balding Romeo was once so kind!'
Hides behind the racing page
And is to her glances blind
 The narrow waist went north
The broad mind took its place.
We should have ended
Like fairy tales do
With 'happy ever after'
And parted in the sunset
Like mythical lovers do.