To A Marse (To A Mouse)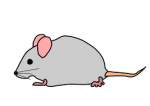 Wed, 20 Mar 2019
To A Mouse
Awright mate, yer scrawny, break of dawn, one bed house!
Watcha getting in such a Titanic abart?
Na need to Botany Bay in such a paper waste
Ta some corn rick
No way I'd scarper afta ya
Wiv me magic trick
Arm 10 ton lorry, man's dominion
H'as left ya wiv na place fer a natter
Yer rite enuf ta fink we're afta ya
Man certainly puts the wind up ya
But me, seeeeeeeeeeee is just a nuva uuming being
A plain pot & pan
Suppose ya gotta be a tea leafe
Sah? Me little half a house ya have ta eat ain't ya?
Na one'll miss a bit a corn
Fill ya boots ya dinky scouse
We'll half this fog & mist (grist)
An na messin