My Kind Of Twitter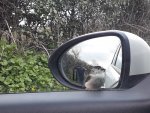 Tue, 26 Mar 2019
1 likes
My Kind Of Twitter
A most magical and serendipitous moment flew into my life yesterday and all because I took the time to stop in a layby.
A little bird alighted on the side of my car as I rested.  Not on the wing mirror, but right in front of it.  Then followed a spell-binding ritual as the bird first argued with it's image pecking furiously at it and then turning to tap on the window and give me a beak full.
I felt a mixture of awe and frustration in those moments.  I was being communicated with and I could not understand one single 'tweet'; although I get the impression the bird was making far more sense that one particular Western leader when he chooses to 'tweet' as it were.
Nor do I want to share the moment (except with those who understand) with a world that if I'm honest doesn't really want or need to know.   Sufficient to say I am a wealthier person  for the experience and it came to me, I did not seek it, create it or conceive it.
That little bird lit up my life for that moment and the times future when I shall return to it.
Not quite the Bird Man of Alcatraz but special non the less.