The Sixties....In My Sixties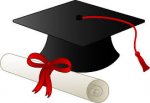 Wed, 27 Feb 2019
The Sixties…In My Sixties
This morning is beautiful and I really mean that.  The sun beats down upon the breath-taking countryside that cradles our tiny village.  It often leads me to write and the direction can be spontaneously diverse.  One day the Cosmos, the next an ornament waiting to be noticed on the mantelpiece.
Where today?  Well I have just read a beautiful piece by another writer.  Shed made 'pick of the day' and justifiably so.  The connection was not obvious and I find it fun to be taken in an unexpected direction.  Not that someone else's memories should be such a surprise, but today a photograph did just that.
We have three 'cap & gown' photographs on the wall of the lounge.  There is my sister in law who graduated from Newcastle in 1977, my own graduation as a very mature student in 2000 and my wife and her Masters Degree gained in 2012 also in full autumn bloom.  My picture was the key that unlocked an unexpected memory.
Albert was the typical bully of his time and during the late nineteen sixties at Secondary Modern trod a downward spiral that travelled in the opposite direction to academic discovery and enlightenment. Why did he come into my mind?  Well, I have a near perfect memory for something said, so long as it has a photo image as a prompt.  It was my graduation picture that provoked a question from Albert way back in 1968 before man even walked on another world.  We were in a Science lesson and for some reason I recall telling him the speed of light, the time it takes from the Sun to the Earth etc. Instead of taking the micky or picking on me because he didn't understand his jaw dropped open and he said "Wow!  Why don't you go to university?"  I stayed on one further year (you could leave at fifteen in those days) but gained no GCSEs.  I took a vocational path on the railways that is another story in its self.  Still I was as far from his suggestion of university. 
I left BR in 1994 not knowing where I was headed.  I never believed I could study, let alone achieve a 2:1 at degree level, but I did and the journey was an amazing one for me personally.  I don't know where Albert is, but as he's the same age as me I guess sixty four by now.  I have no real regrets from my school days.  Yet that the question should come back to me now is the strange part for me.  There is absolutely no way I could have predicted my path, but much of it is to my satisfaction and a completeness settles over my soul as I write this…yes, I DID go to university.  Thank you and I wish you well.