Sleep...I Left It somewhere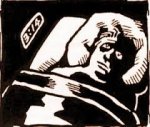 Thu, 06 Oct 2016
Sleep…I Left It Somewhere
Turbulent, Incessant Insomnia
A mind trapped in a maelstrom
Of stormy half considered thoughts.
Searching, never reaching
For an answer.
The beside light
Fires the starters gun
And the meaning of existence,
From amino acid beginnings
A daisy chain to me.
My mind is on the run.
An arid loneliness
Parches my hope of sleeping.
That oasis dream of peace
Rainbow led, never reaching
Treasured rest.
The darkness deepens
Dawn is on the run.
With lengthening strides of
Blackness,
An endless night drags on.