Toilet Trouble At The Loo Roll Summer Ball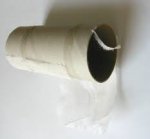 Sat, 21 Mar 2020
1 likes
Toil and Trouble At The Loo Roll Summer Ball
Bold and loud the MC stood
"The guilty must take their places!"
The Master of the Rolls thundered accusingly
As he slowly surveyed the sheepish faces.
All the Bogofs had been summoned
Yet no one could hear the clarion call
T'was to be a grand occasion
Toilet seats stood to attention
For the Loo Roll Summer Ball
"Kleenex? Cushelle? Andrex?
Take your partners and bow real low
The Toilet Tango dance will soon begin
The guilty now before you really need to go."
Stabbing notes mocked in strict staccato beat
The floor stood bare and accusing
Guilty faces snapped sidelong
The fires of Hell no match for their blushing heat.
The great doors bulged and splintered
The people gasped and cried out loud
A giant toilet tissue ball
Had come to wipe their guilty faces…
Now it was to be tufts of grass for all.