The Love of the Loveless (Chapter 3) (2)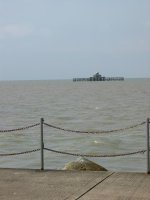 Tue, 26 Feb 2019
      "Have you heard anything from Karen?" I said, as we went back through to the lounge.
      "Yes," she said, sitting in her chair opposite the telly.  "She rang earlier.  Just wanted to check that we were all set for Sunday, and that you were still coming."
      "Of course, mum.  I wouldn't miss it."
      "Good."
      She settled back and sipped her tea, looking at the silent faces in front of her.
      "Put the sound up if you want it.  Don't worry about me."
      She picked up the remote control and pressed a button.  The sudden sound was astonishing.  She lowered it until it was more tolerable. 
      "I must get my ears done again," she said.
      Tipping Point was on.  Ben Shephard was just asking a question.
      "Wolverhampton Wanderers usually play their home games..."
      A contestant named Roger buzzed to interrupt.
      "Black and gold," I said, quickly.
      "Molineux Stadium," Roger said.
      Ben Shephard's face dropped.  "...in shirts of which colours, Roger.  Molineux Stadium is their home ground, but the shirt colours are black and gold...."
      I grinned, punching the air.
      "How did you know that?" mum said.
      "There's a guy at work who supports Wolves.  He wears their shirt sometimes."
      "But how did you know what the question was going to be?"
      "I dunno.  I just did."
      She shook her head.
      "You ought to go on this.  You might win some money."
      She always worried about me and money.  Did I have enough?  Did I need to borrow any?  She knew I didn't earn much, didn't have a car, didn't go on holidays any more.
      "It's different when you're in front of the cameras," I said.  As if I knew.
      We sat and watched it for a few more moments.
      "Where is it we're supposed to be going on Sunday, anyway?" I asked.
      She shook her head.
      "I'm not sure.  Some pub they go to out along towards St Nicholas.  Karen said it's very nice.  Off the beaten track somewhere in one of those villages.  It's pretty out there.  Apparently the food's good."
      "Well, that's the main thing."
      If I knew Karen and Rod, it wouldn't be my idea of a pub lunch.  Top dollar.
      "Did they say the name?  I can look it up."
      "I can't remember now," she said.  "The Duke of something-or-other.  It's by a big duck pond, she said.  It sounds lovely."
      I knew a few places out that way from food delivery days.  I could check it out.  I shouldn't feel so mean about it.  I was glad they wanted it to be a special occasion for her.  With them, though, it always felt like part of the show.  These are the kinds of places we like to patronise.  This is the standard we're used to enjoying.  They never consulted me on it, either.  It was always what they arranged.  Where they wanted to go.  Mum was like me in that she didn't mind.  When I'd had my fiftieth birthday, we'd met up in the The Viking.  It was a Saturday evening, so heaving.  Loud teenagers doing shots.  Screaming toddlers wandering around.  Some drunk guys from the local football club.  I didn't like it much, either - but it was cheap and they filled your plate.  Mainly with chips, mind.
      "Why do they call it The Viking," Rod had said, smirking.  "Surely it should be plural.  Rape and pillage can't be that far off."
      Karen, by popular family consent, had done alright for herself.  By marriage, anyway.  Rod had a moderate-sized and successful business producing those cutesy ornaments you see in gift shops and airport lounges.  Started in his garden shed in the mid-eighties, Midgeley Miniatures now had three large production workshops and a growing market in western Europe. He'd used the accountancy firm Karen temped for, which is how they'd met.  On their first date, he took her to a swank French restaurant in London, and it was there (so the story goes) that she first suggested Eiffel Tower figurines.  He made her the company's Financial Director as an engagement gift soon afterwards.  Since then, on the proceeds of thousands of plaster Turk's heads, country cottages and dopey-eyed dogs (not to mention the Eiffel Towers, Brandenburg Gates and Rome Colloseums that had come along in time) they'd risen to the ranks of the very comfortably off, thank you. They lived in a large house on an exclusive estate in Sandwich.  They also had a holiday home in Normandy and a Winnebago the size of a coach.  They had three grown up children - twins Chris and Adam, who were both at uni, and Natalie who was in the sixth form of the same public school the twins had attended.  For their silver wedding five years ago, they bought themselves a Rolls Royce Silver Shadow.  1980 vintage - one of the last ones Rolls Royce made, apparently. 
      "A steal at £15k?" as Rod had said at the time.
      More than my annual salary, as I'm sure he knew.
      I don't think they used it much.  It was something to look at more than anything else.  Like one of Rod's products.  Something to dust.
      "They've done so well," mum always said.  "They're happy." 
      I was never quite sure what that was supposed to mean.  Just what it said, probably.  At the same time, she was wise to their pretences. She liked to refer to the 'knick-knacks' they made.
      "Objets d'art, mum," Karen would correct, with just the slightest undertone of irritation.
      "Alright, then... objects.  Whatever you want to call them."
      When the adverts came on, I got up.
      "I'd best get home and see what Tinker's up to."
      "You could have had a cup of tea after all," mum said, putting her empty cup back in its saucer.
      I felt the guilt in my stomach like a stone, as always.
      She got up and saw me to the door.
      "Do you want to meet up for lunch tomorrow?" she said.
      It was our usual thing.  She used to go with a friend, Rita, every Saturday lunchtime.  They'd done it for years.  Then Rita developed dementia.  It came on rapidly, and within six months she was in a home.  So I kind of took over.  It was something she always looked forward to.
      "Sure.  Half-twelve?  Where do you want to go?"
      "I don't mind.  Greasy spoon will do."
      The Duke of somebody-or-other could wait.
      "Fryer Tuck's?"
      "Yep.  I'll meet you outside then."
      I unlocked my bike from the gate and headed for the path.  I turned to wave at the last moment and she was standing at the door, waving back.  I felt another pang then - again, as always.  There, aside from Tinker, was everything I held precious now.  That little old woman with the silver hair, that place she lived in, the memories it held.  It was the lodestone of my entire life.  She had stuff stored in the loft that belonged to me, going back to my childhood.  Stuff from my marriage that I hadn't had room for after the divorce, and couldn't face anyway.  Stuff of dad's - the last few bits collected from his room after he died.  I wanted to think it would always be there.  All of it.  Those walls.  Those things.  That person.  My mother.  The only one who had always been there, no matter what.  How could it be that she might not exist one day?  Maybe one day soon?  She'd had a few close calls. 
      How much longer?
      "See you tomorrow," I called.
      Then I turned my head back to the path in front of me and pushed the pedals, steering towards the road and home.