The Love of the Loveless (Chapter 4) (1)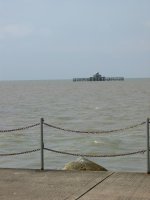 Wed, 27 Feb 2019
      Tinker was waiting on the stairs when I got in, meowing fit to bust.  She rubbed around my legs as I took off my trainers, then darted up ahead of me.
      "What you been up to then, missus?  No good?"
      At the top of the stairs, she rolled over - tail over head - then stretched out on the carpet for me to rub her belly.  I switched off the radio I kept on for her while I was out, then went through to the bedroom and threw myself down on the bed.  She leapt up and clambered onto my chest, purring so hard it made my ribs rattle.  We stayed like that for about a minute - me rubbing her head, her purring like a generator.  Then, when she was happy that I was home and she'd acknowledged it enough, she jumped down and went off about her business.  Like all cats, she wasn't a big one for lots of fuss.  It's what I liked about cats.  They were independent, like me.  They did their own thing most of the time.  Since my diagnosis, I liked to think of myself as a cat in a world of dogs. I tried hard to behave like a dog to keep in with the other dogs.  I chased a stick now and then, even if I didn't want to.  I made lots of fuss, even though I preferred to sit quietly on my own.  I did my best to be accepted as a dog, even though I was a cat.  But the dogs didn't usually see me that way.  They didn't appreciate my natural catness, and my strange ways.  Instead, they saw me as a pretty lame excuse for a dog.  Oh well... at least I was happy to be a cat now.  I didn't have to pretend any more.
      I'd only had Tinker for six months.  It was a pure accident, really.  We'd had cats when I was growing up and I'd always liked them, but I'd never had pets as an adult (apart from when I was married to Lucy, who had a cat).  I'd never really thought about it.
      And then one day, I checked a friend's timeline on Facebook and saw she was supporting a local cat rescue charity.  I clicked on the link to their site, thinking I might make a small donation.  One of the tabs was labelled Cats seeking homes.  I clicked on that, too - I don't know why.  I just thought I'd have a look while I was there.  It was a long list.  Old cats, young cats.  Black, white, ginger, tortoiseshell, tabby.  Cats who'd been through the wars and showed it - bits out of ears, eyes missing, a paw short.  Cats who'd been abandoned and found in dumpsters, wandering streets, hiding in sheds.  It always broke my heart the way people could treat animals.  It was bad enough the way they treated each other, let alone creatures who didn't understand anything different.  I was glad there were places like this, and people who did the job.  It gave me a little faith back in humanity.
       I continued scrolling down, almost to the bottom, and was about to click back to the main page when a photograph suddenly caught my attention.  It showed a young mackerel tabby, crouching back in the corner of a cat-carrier, ears flat, scared and forlorn-looking - like it was expecting the person taking the photo to do something nasty.  I felt something catch at the back of my throat.  The mouse pointer was hovering over the 'Back' button.  I looked at it.  Then I looked back at the photo.  Underneath was the name Tinker.  Tinker.  I remembered, as a kid, that my nan had a cat called Tinker.  A black-and-white female who'd got run over one day out in the road.  I'd found her, on my way to school.  I couldn't go in that day.  I cried every night for a week.
      Tinker.
      I looked at the short description underneath.  It said Tinker was a three-year-old female.  She'd had a rough deal in those few short years and was looking for a new and loving home, away from children and other pets.  I looked at the photo again - at those sad, scared eyes.  Before I knew what I was doing, I picked up the phone and dialled the number.  The next day, the woman who was fostering her - Janet - came out to see me.  We spoke over a cuppa and she could tell I was genuine.  She drove me to her home, twenty minutes away, and filled me in on Tinker's history. 
      "Ain't had much of a life, bless her.  Pulled around by kids, then abandoned when she had kittens.  She's been neutered, but the hair ain't grown back yet.  It takes a while.  I have to keep her outside in a cage because she doesn't like other cats.  She's timid with people, too.  That's why I've had her a while.  She may have to go for a farm cat if no one wants her."
      "How many cats do you foster?"
      She paused a moment to think.  "Got... fourteen at the bit, with her too."
      We arrived at Janet's smallholding, way out in the sticks, and she led me down a muddy path to the cage - big as a garden shed.  There, Tinker sat on a shelf staring at us, regal as you like, as if to say I wondered when you were coming.
      "She doesn't look nervous."
      "You wait.  She'll probably run and hide when I undo the lock."
      She fished in her anorak pocket for the key.  Tinker didn't budge.
      "During the winter, we put hot water bottles under her blanket at night to keep her warm," Janet said.  "I've tried taking her indoors, but she won't have it with all the others."
      She unlocked the cage and I stepped in.  Tinker jumped down - and came straight to me.  She started rubbing around my legs.
      "Bless me!" said Janet.  "You must smell right."
      "Can I pick her up?"
      "You'll be lucky.  She's not keen."
      I bent down and put my hands around her stomach.  When I got her up to my face, she was purring.  I held her close and kissed her neck.
      "Well, I'll be blowed," said Janet.
      I put her back down again, and she jumped up on a shelf next to me.  She was bald underneath and down most of one side.
      It was love at first sight.
      "She'll do!" I said..
      "Are you sure?  You're welcome to come in and see some of the others."
      "No,"  I said.  "She's mine now."
      Two weeks later, after Tinker had had her jabs, Janet brought her to live with me.  It was a two-week trial to see how she got on.  For the first hour, she hid behind the sofa.  I tried using bits of string to entice her out, but to no avail.  So I left her to find her own way and sat at my computer to do some work.  After about ten minutes, I saw a whiskery head poking out, looking up at me.  As soon as she realised I'd seen her, she hid again.  Another few minutes.  Then, from the corner of my eye, I saw her head again.  I didn't look this time and carried on with what I was doing.  Inch by furry inch, she emerged from her dark hiding place.  I turned my head slightly towards her, and she stopped and went back a step.  Neither of us moved for a few moments.  Then I turned my head a bit more, until I was facing her.  Her eyes were huge.  She twitched her nose forwards.  I couldn't help smiling.  Her face reminded me of one of those emojis with a tiny circular dot for a mouth. What's this all about?  What's going on?  Who's this?  I didn't move - just held her gaze.  Slowly, very slowly, she edged forwards again.  She shifted her eyes quickly to left and right, taking in the room, but always swivelled back to looking at me.  Finally, she stopped again.  She sniffed at my bookcase on one side.  She sniffed at the sofa on the other.  She sniffed at the play mice and the catnipped scratchboard I'd put down for her.  Then she was back to looking at me again.  Cautiously, she sat on her haunches.  She curled her tail around her front paws.
      And that was it.  She was home.
      Two weeks later, by which time Tinker was settled and happy, Janet had to come back to take her for a final jab.  Tinker howled and spat as Janet put her into the carrier.  They were only gone for about an hour.  But the moment my front door closed behind them, I sat down on my bed and - for one of the very few times in my adult life - I cried.  It felt like my heart had been ripped from my chest.  This poor creature, who'd suddenly lucked on a happy life at last, must have felt that the dream had ended before it had begun.  I don't remember ever crying so hard.  Not since I was a child, and found the other Tinker dead that day on my way to school.  When Janet brought her back, Tinker came straight to me and wouldn't leave me alone for the rest of the evening.  I knew then that I'd found a true life companion at last.
      A few weeks later, I posted some photos of her on the rescue centre's Facebook page.  Janet saw them and posted a comment:
      It looks like Tinker has finally become the cat she was always meant to be.
(continued)