The Love of the Loveless (Chapter 6) (3)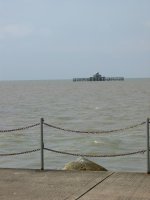 Sat, 02 Mar 2019
      The pub wasn't too crowded, which was good.  Our table was in a quiet corner bay.  Karen and Natalie led mum over to it while Rod and I went to the bar for the drinks.  Rod took his wallet out.
      "I'll get these, Rod," I said.
      "Are you sure?"
      "Absolutely."
      We watched as the woman behind the bar went about getting the order. I followed her every move: get the glass, check it against the light, go to the pump, start pulling.  Rod stood with his hands in his pockets, rattling his change.  I guessed he felt as awkward as I did.  I never quite knew what to say.  I'd always gotten along with Rod, though Karen was practically the only thing we had in common.  I couldn't think of him as a brother-in-law, somehow.  But he probably felt the same about me.  The bust-ups with Karen hadn't helped matters, of course.  I didn't think he had a lot of time for me, and I couldn't say I blamed him.  When I got my diagnosis, their reaction had been one of bafflement.  They never talked about it.  In some ways, I felt that it had increased the distance between us.  Or maybe it was something they were using as an excuse for that. Only Natalie had been positive about it - wanting to know more.
      "She's looking good," Rod said.
      The woman turned and smiled at me suddenly.  I realised I'd been staring, though not really at her. Not in that way. 
      "Eh? Who?"
      He jerked his head back.
      "Your mum."
      "Sorry... yes.  I was miles away.  I zone out sometimes."
      "Wool-gathering?"
      "Something like.  Yes... she does look well.  Amazing how she keeps going."
      "Well, they built them to last in those days," he said.
      The woman placed our drinks - Rod's pint of shandy, my soda water, ice and a slice - on the bar towel,  then went off for the rest.
      "Cheers," said Rod, lifting his glass.
      "Good health."
      He took the top off.  Just a mouthful - the foam clinging to his moustache like a dip of emulsion on the end of a brush.  He let out a small sigh of satisfaction and put the glass down again.  He looked at it - turning it slightly, then back again, as if trying to decide which angle he liked.  The bubbles rising through the nut-brown liquid.  The thin layer of head.  The drips running down the side of the glass.  I could almost taste it myself.  It was times like that that I really needed something.  I almost wished I'd bought a can and stashed it in my bag.  Necked it when I went to the loo.  They would know, though.  I took another sip of my water.  I could hear dad's voice in my head.
      Why'd you go to a brothel if you only wanted a wank?
      Rod took a handkerchief from his pocket and wiped his moustache.
      "I see it in Karen too, you know," he went on.  "Another toughie.  Just soldiers on.  When she broke her arm that time, I told her to let up.  But she wouldn't.  Still did everything.  Worked every day.  Did the books.  Typed her letters one-handed for a while.  Must come down your mum's side.  Tough women."
      I wasn't sure what he meant by that.  Maybe nothing.  I could sense this was going somewhere, though.
      "We could do with more of that spirit.  I've got people working for me who go sick just for a bloody headache.  Stress and depression.  They're the main ones.  Everyone's bloody depressed now, it seems."
      "It's an illness like any other, Rod."
      He gave a short snort of derision.
      "There are plenty who use it for an excuse, though.  I wish I had the luxury of taking a few days off for feeling down.  I don't get time to feel down."
      Was it all about some kind of dig?  Dad had been treated for depression.  I'd had depressions, too, for years.  They'd improved since my diagnosis, once I had something that helped me to explain them.  I still had my days, though.  He knew this.  They both did.  I could have said something more.  But it wasn't worth it.  Just as well I hadn't had a drink.  Fuck 'em, as dad used to say.  Let them think what they like.  They certainly seem to like what they think.
      The woman brought the rest of our order on a tray.  Sherry for mum, wine spritzer for Karen, J2O for Natalie.  I held up my card and she passed the machine over to me.  Rod picked up the tray and I followed him over.  There were chair legs sticking out everywhere and he just needed to catch his foot...
      But he didn't.
      We took our seats - Rod next to me.  He raised his glass.  We all followed suit.
      "The very happiest and healthiest of birthdays, Eve."
      "Thank you," she said.
      We clinked glasses and drank the toast.
      "I hope I've got a few more left in me yet," she said.
      "Course you have, gran," said Natalie.
      "Will and I were just saying how well you looked," said Rod.
      "Well... I have my days," she said, smiling.
      She was sitting by the window, and in the light I could see how frail she actually looked now.  The deep, shadowed lines.  The thinness of her skin.  I could see it in her eyes, too.  It wasn't just her age. It was everything.  Her illnesses.  The years of stress with dad.  The pain and grief of losing a child.  It was all there, writ large.      
      Karen jerked her head up suddenly, looking over my shoulder in alarm.
      "What on earth?"
      "WILL!"
      Heads turned, as did mine.  I knew that voice anywhere.
      Shirley was bearing down on me from the door, dressed in Sunday best, a large handbag hanging over her arm.  Her eyes were huge with surprise.
      "Hello, Shirley.  Fancy seeing you here."
      She stopped and put her hand to her mouth.
      "M-My friends from the church brought me."
      I looked over to the door, where another smartly-dressed elderly couple were standing looking at her.  They seemed at a loss as to what to do.
      "It's nice to see you," I said.  "This is my family.  We're here celebrating my mother's birthday."
      She looked at mum.
      "H-Happy birthday, Will's mum," she said.  "H-How old are you today?"
      "Shirley..."
      Mum grinned.
      "I'm ninety-three, Shirley," mum said.
      Shirley smiled, and I heard a small chuckle.  "That's quite old, really, isn't it."
      This time mum laughed out loud.
      "Yes, it is.  I feel it, too."
      "Do you?  I-I'm fifty-six.  I think that's quite a good age, don't you?"
      "Yes, Shirley," said mum.  "You don't look it."
      Shirley looked surprised again.
      "Don't I?  I am, though, aren't I Will."
      "Yes, Shirley.  I think mum meant you look young for your age."
      She put her hand to her mouth again and cackled.  There was an awkward silence.  I realised something.
      "I work with Shirley," I said. "At the Centre."
      "Will's v-very nice to me," Shirley said.  "He takes me out on trips and we have a laugh."
      "That's nice, Shirley," mum said.
      Rod and Karen were smiling, but seemed lost for words.  I looked over at the couple again.
      "I think your friends are waiting, Shirley."
      She turned.
      "Oh, balls," she said.  Quietly, but loudly enough.
      "It was lovely to meet you, Shirley," said mum.
      "Thank you.  And are we all having a nice time today, Will?"
      "We are, yes.  I shall see you tomorrow."
      "Yes," she said again, quietly. "I'll see you."
      She seemed a bit confused for a moment.  Then it was like a light went on somewhere, and she went off to join her companions.
      Mum was delighted.  "That was nice of her."
      I shook my head.  "Of all the people.  I never expected to see her here."
      Karen was looking at Rod, bemused.  I looked at Natalie, who was smiling a big smile at me.  She winked her eye.
      "I like Shirley," she said.
      "She's great, bless her."
      "What's wrong with her?" said mum.
      "I can't talk about it, mum.  She's got her problems.  But there's a lot right about her, too."
      There was another awkward silence.  Then a waitress came and gave us the menus to look at.
(continued)