Eliza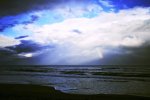 Wed, 23 Aug 2017
She was the ocean.
Blue waves lapping against a face of sand,
freckles like sea shells,
driftwood brows.
He was the beach.
He was the seaweed tangling, groping her legs,
sea foam frothing from his lips.
He was the gritty sand between her toes
in her hair
clinging to her back
He wanted to suffocate her,
but she refused to drown herself.
She was the tide leaving the shore,
and unlike the ocean,
she was never one to come crawling back.