Reflections of You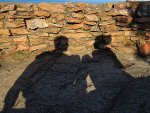 Wed, 20 Feb 2019
You were all swan-necked when the girl arrived. They all saw you. And I sat cornered perching on a wooden stool, your brother's beer breath getting ever closer. You told me that I had to be there, said I'd be missed. After giving you four reasons why I couldn't, I agreed. You smiled before telling me that it made sense.
Journey there and you got caught by a speed camera, the one you always told me to be careful about. I was gonna bite but I kept quiet and just listened to your blurred monologue, something about money and real criminals. I longed for red lights and traffic jams and maybe a sharp reduction in tyre pressure. The journey home would be better, I thought, because your boozing meant I'd have driver's rights. 
Leaving the car I could still hear you ranting about your dad's present being left on the table at home, yet you continued your rummaging in plastic bags that had been in the car for the past fortnight. Most of the hot air had left you when the car door finally opened, though your sulking was its replacement.
Apologies and sarcastic blame at the opened door, then through to the kitchen for white wine in tumblers and roasted peanuts. I wondered then how long I could get away with hiding in the toilet, whether twenty minutes was too long. I decided on fifteen.
Downstairs, I carefully choreographed my arrival in the front room by sipping on my drink and pretending I was looking at my phone. God forbid that one of your sisters would have a spare seat next to them. The corner was fine, that's until your Terry plonked down. I could smell the sweat from his t-shirt as he shuffled up close to show me his new 4x4 on his phone, his elbow digging in to my arm, his eyes all a rolling. 
That's when the door went and in walked the neighbour, all legs and tanned, like she was on an evening out in the Costas, but it was still mid-January. I hadn't seen you so alert since you trapped your finger in a drawer some months earlier. Unlike then, this didn't make me smile, save for the look on her face when she caught you eye-balling her arse. 
By this point your brother's odour was really making me feel queasy and the smell of the sausage rolls balancing on my lap weren't helping. I fantasised that I was dusting, scrubbing the toilet or sucking on lemons, until I finally lifted up his heavily tattooed arm and excused myself.  
Outside in the hallway, your mother had tracked me down, asked if I'd had enough to eat and commented on how mild it was for this time of year. I nodded, while wondering if the neighbour's skirt was maybe more appropriate than I had previously thought. I spent the next few minutes riding a wave of pretend listening, making the right noises at the right moments. And I felt I was doing well until I caught sight of you and her in the kitchen, laughing. I really wouldn't have recognised you, jokey as you were, if it wasn't for that awful pink shirt you always wore, and which you knew I hated.
By now, your mum had deserted me. Maybe she had seen through my disguise.
Rescued by your father, I was ushered into the room I'd been running from since my arrival. Old Polaroid photos, being passed round the room, had reached us and some of them got stuck in my throat. 
Your dad seemed softer than before; maybe it was just the occasion…or the drink. He looked at me between pauses in conversation; he put his hand on my arm when I tried to get up.
Return journey and your jovial ways had left as quickly as they came. I wondered if I'd ever see them again. I wondered if I needed to dress like her to find them, or if it was too late.
In bed now and you come on to me with your alcohol-soaked breath seeping through the Colgate. I tell you it's that time of month again before you reach between my legs. You groan, turn and fall sleep within thirty seconds. You left me attempting to turn the rusty cogs of my insomnia.
Just there, your deepening breaths seemed to swallow up what remained of me, as I replayed the day we'd just had on loop back. In your dad's kitchen you bent the young neighbour over the table, her smiles a reminder of our early days, as you give her something I can't have. I'm left with dried sausage roll on the roof of my mouth as I thumb the old photos with your father – photos of children, photos of us - and your sisters' kids are tapping balloons around, their tummies full of coke and cake, a constant reminder to me of what we couldn't give each other.
...A dream, some sleep, but only in name, for I am shackled to us once more even there, barely visible in some fake twilight. Cradling, I whisper words I cannot now remember, but the louder I speak, the more I see you. Your eyes are swimming in brimming pools, almost drowning, saved only by blinking lids, like lifeguards. You tell me you're sorry, that it's no one's fault, that we'll make it.  Yet your speech doesn't make sense to me because I'm holding our baby. 
And when I wake up in the morning I reached for you and you reached back and the shadows from the morning began to play from the window – to bounce on to our bed, to join hands with us, to forgive us.